INDEPENDENT RETAILER magazine is now the official news outlet for Wholesale Central visitors. Each monthly issue is packed with new product ideas, supplier profiles, retailing news, and business strategies to help you succeed.

See new articles daily online at IndependentRetailer.com.
MESA POTTERY hand crafts more than 100 different designs in an exclusive swirl pattern of multi colored, pigmented clay. Because they are hand crafted, no two pieces are exactly alike.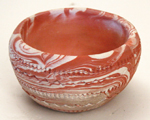 The objects range from pots to statuary in a variety of themes. Sizes range from three inch pots to a 12 lb. buffalo statue that is 14 inches long and about nine inches high. Its products are among the least expensive hand crafted pottery on the market, and 95 percent of its items wholesale for under $12.
Three inch pots come in various shapes and carry a choice of numerous animal themes, including bears, cats, birds and lizards. These wholesale for 50 cents, and suggested retail price is between $3 and $4.
Animal statues that are three to four inches high wholesale for $1 and typically retail for $3 or more. The most popular Southwest themed items, including horses, horses and riders and mythical figures wholesale for between $3.50 and $12. All are intricately detailed.
The minimum order is $250, and it can include an assortment of all of the company's products, including these swirl clay exclusives.
For more information, contact:
Mesa Pottery
P.O. Box 6955
Albuquerque, NM 87197
Tel.: 505-244-0212
Website: www.mesapottery.com
Entire contents ©2021, Sumner Communications, Inc. (203) 748-2050. All rights reserved. No part of this service may be reproduced in any form without the express written permission of Sumner Communications, Inc. except that an individual may download and/or forward articles via e-mail to a reasonable number of recipients for personal, non-commercial purposes.