INDEPENDENT RETAILER magazine is now the official news outlet for Wholesale Central visitors. Each monthly issue is packed with new product ideas, supplier profiles, retailing news, and business strategies to help you succeed.

See new articles daily online at IndependentRetailer.com.
EMOTIBLES.COM has added eight new designs to its original 16 Emotibuds, which are rubber charms designed to be attached to an iPod earphone. Each of the 24 designs features a different Emoticon, the typographical symbols that depict emotions and are used primarily in emails.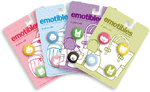 Among the emotions depicted in bright colors on the original Emotibuds are, "cranky," "bad," "curious," "frisky," "befuddled," and more. The minimum order is $50, can include any combination of Emotibuds designs, and also include the company's, "Wall of Emotibles," poster and/or Post-It pads carrying original Emotibuds characters.
Emotibuds iPod earphones wholesale for $2.25, and suggested retail is $5. With an order of $50, retailers receive a free counter displayer that features four different designs and holds a total of 12 units. All Emotibuds have a descriptive hangtag.
Since first introducing Emotibuds iPod charms, Emotibles.com has added an application on its website that allows visitors to create an Emoticon character, and there are now 7,000 designs created by website visitors. Wall of Emotibles is a 12 by 18 inch poster that contains a total of about 50 different Emoticon characters, some of which are original and others that have been designed by web visitors. The wholesale price of the poster has not yet been determined. Suggested retail will be in the $12 range.
The company has also just completed an agreement with Post-Its and has developed single three inch square Post-It packs, in each of four of its most popular Emotibuds designs. The Post-It pads wholesale for about $2 each, and the suggested retail price is about $4.
Additional Emotibles products are on the drawing board, including pins and stickers.
For more information, contact:
Emotibles.com
55 Park Avenue Ste. 35
Bloomfield, NJ 07003
Toll Free: 866-614-7567
Tel.: 973-415-8378
Fax: 973-337-2210
Website: www.emotibles.com
Entire contents ©2022, Sumner Communications, Inc. (203) 748-2050. All rights reserved. No part of this service may be reproduced in any form without the express written permission of Sumner Communications, Inc. except that an individual may download and/or forward articles via e-mail to a reasonable number of recipients for personal, non-commercial purposes.