INDEPENDENT RETAILER magazine is now the official news outlet for Wholesale Central visitors. Each monthly issue is packed with new product ideas, supplier profiles, retailing news, and business strategies to help you succeed.

See new articles daily online at IndependentRetailer.com.
K. PEER DESIGNS LLC offers, "The Clutch for Cures," collection of clutch bags, designed by company owner, Kellee Peer. The design is patented and exclusive to this supplier.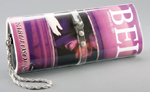 The clutch unit is comprised of a clear acrylic cover with a Velcro lining that folds in two and opens and closes with a clasp. The Clutch for Cures comes with a choice of six different authentic replicas of vintage magazine covers, each featuring a different glamorous star. They are Audrey Hepburn as she appeared on Charm magazine, Marilyn Monroe on a Silver Screen magazine cover, Betty Davis on the cover of an Italian magazine, Grace Kelly on the cover of a French magazine, Clara Bow on a Portuguese title, and Sara Jane, a once widely famous model.
Each of the stars in this collection is associated with a charity related to their personal lives, and hang tags explain the charitable relationship. K. Peer Designs donates $10 from the wholesale price of each purse to the related charitable organization. The company website carries stories of the charity chosen for each of the women.
In addition, these magazine covers can be removed and replaced by the clutch's owner with any other personal photo, paper design, fabric or other slim personal image. Replacement of the photos is accomplished with the removal of two screws and brass nuts. It does not require a tool to open the acrylic cover and replace the original image, and the clutch can easily be changed and customized over and over again.
Each unit comes with complete directions for customizing, and a template for trimming photos and materials to fit within the acrylic cover. The open clutches measure 11 by 12 inches, and the images are cut in half, so when closed, it measures 12 inches wide by five and a half inches tall. There is no minimum order. The wholesale cost is $55, and suggested retail is $120. G. Peer offers a 180 guarantee, which means that if a unit doesn't sell within 180 days, the supplier will buy it back, no questions asked.
For more information, contact:
K. Peer Designs LLC
16054 Surfview
St. Louis, MO 63040
Tel.: 314-540-9830
Fax: 314-754-9369
Website: www.kpeer.com
Entire contents ©2022, Sumner Communications, Inc. (203) 748-2050. All rights reserved. No part of this service may be reproduced in any form without the express written permission of Sumner Communications, Inc. except that an individual may download and/or forward articles via e-mail to a reasonable number of recipients for personal, non-commercial purposes.