INDEPENDENT RETAILER magazine is now the official news outlet for Wholesale Central visitors. Each monthly issue is packed with new product ideas, supplier profiles, retailing news, and business strategies to help you succeed.

See new articles daily online at IndependentRetailer.com.
FINAL TOUCH BY DESIGN has developed The Scarf Clasp, a fashionable device designed to hold knit and woven scarves, wraps and shawls in place. It features a magnetic clasp that holds tight and is also easy to put on and take off.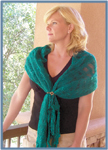 The Scarf Clasp comes in a choice of dozens of jeweled designs, consisting of many types of materials, including glass, natural stone, shells, pewter and cloisonné. It is also offered in a variety of sizes, ranging from about four to six inches, in order to accommodate scarves and shawls of different lengths and weight.
The wholesale price ranges from $4 to $6, depending on style, size and the size of the order. The minimum order is six units, and can include an assortment of designs, materials and sizes. The suggested retail price ranges from $10 to $18.
The Scarf Clasp was designed by Vicky Reinke, who heads Final Touch by Design. It is made in the U.S. and is exclusive to this supplier. Final Touch by Design is offering a starter pack of 24 units for $125. It can include a variety of best selling designs or a selection customized by the retail buyer. A point of sale display unit is being developed.
For more information, contact:
Final Touch by Design
332 Catalpa Lane
Angels Camp, CA 95222
Tel./Fax: 209-736-6875
Website: www.thescarfclasp.com
Entire contents ©2022, Sumner Communications, Inc. (203) 748-2050. All rights reserved. No part of this service may be reproduced in any form without the express written permission of Sumner Communications, Inc. except that an individual may download and/or forward articles via e-mail to a reasonable number of recipients for personal, non-commercial purposes.