INDEPENDENT RETAILER magazine is now the official news outlet for Wholesale Central visitors. Each monthly issue is packed with new product ideas, supplier profiles, retailing news, and business strategies to help you succeed.

See new articles daily online at IndependentRetailer.com.
YAZZII INTERNATIONAL PTY LTD. brings its extensive line of multifunctional fabric organizer and storage systems to the U.S. There are dozens of innovative styles and sizes in this imaginative collection, which includes units for holding equipment for crafts, jewelry, cosmetics, toiletries, medications, and baby goods.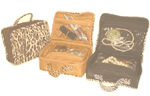 Units are offered in hundreds of different quilted fabrics. Eight different baby storage carriers, for instance, come in a range of bright colored prints. The full line encompasses many shapes and sizes with varying, often tailored, pocket configurations.
Among the newest lines is the Wildlife collection. It includes nine different styles, and each comes in a choice of leopard, tiger or zebra print fabric. All have the company's signature see through panels.
The jewelry roll/wrap, model PA17AP, is a tri-fold unit that measures 12.5 inches long and nine inches wide when closed, In addition to pockets for necklaces and other jewelry, it has a clip-on bar to hold rings. The suggested retail price is $21.95.
A larger model PA465AP, called a side-bangle/jewelry ring organizer, is seven inches long, 11.5 inches wide and three inches deep. It has eight clear plastic pockets for necklaces, a bracelet roll and a clip up ring bar, all neatly organized, safely cushioned and easy to locate. Its suggested retail price is $44.95.
The PA10AP large jewelry/make up organizer contains eight zippered compartments with see through panels. It has a suggested retail of $39.95. Another unit, PA17AP, the petite jewelry/make-up organizer, is the same size, but includes six zippered, see through compartments, and has a suggested retail of $29.95.
All of the units are great for travel and all are equally useful for carrying medicines, toiletries or any user's own collection of essentials that need organization. Wholesale pricing allows retailers to at least double their investment.
The products have gained widespread popularity in many countries where they are sold in such outlets as jewelry stores, drug stores, gift shops and baby and fashion boutiques. The company is seeking wholesale distributors in the U.S. Meanwhile, on orders of $300 U.S. wholesale, Yazzii International will pay the shipping. For wholesale pricing and more information, contact Yasmita Magan at:
Yazzii International Pty Ltd.
P.O. Box 4334
Burwood East
Victoria 3151 Australia
Tel.: 011-613-9899 -9990
Fax: 011-613-8610-0027
Website: www.yazzii.com
Entire contents ©2021, Sumner Communications, Inc. (203) 748-2050. All rights reserved. No part of this service may be reproduced in any form without the express written permission of Sumner Communications, Inc. except that an individual may download and/or forward articles via e-mail to a reasonable number of recipients for personal, non-commercial purposes.