INDEPENDENT RETAILER magazine is now the official news outlet for Wholesale Central visitors. Each monthly issue is packed with new product ideas, supplier profiles, retailing news, and business strategies to help you succeed.

See new articles daily online at IndependentRetailer.com.
AMBIENTI GIFT & HOME introduces Firefly, a stainless steel, refillable candle lighter. It is 12 inches tall and comes packaged in an individual gift box that also contains a stand for the lighter. Firefly can also be used for fireplaces and barbecues. It comes filled with butane, and depending on the duration of lights, will handle up to 250 before being refilled. The unit also comes with a lifetime guarantee.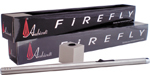 It is especially handy for the holidays, and also makes an excellent hostess gift. The minimum order for Firefly is a box of 12 units, and the wholesale cost is $11. On orders of more than a box, the wholesale drops to $10. Suggested retail is between $24.95 and $29.95. Two smaller versions of wand like butane lighters are also available. Both are stainless steel and refillable. One is seven inches long and is offered in a point of sale displayer that holds 25 units. The wholesale price is $5, and suggested retail ranges from $12.95 to $14.95.
There is also a nine inch long unit with a lever handle. It is offered in a point of sale displayer that holds 16 units. The wholesale price is $8, and the suggested retail price is $16.95. There is a stand to sell with this nine inch unit. The wholesale for both unit and stand is $9.75, and the suggested retail price is $19.95.
For more information, contact:
Ambienti Gift & Home
34 Bryce Canyon
Aliso Viejo, CA 92656
Toll Free: 877-869-7172
Tel.: 949-274-4232
Toll Free Fax: 866-311-5486
Website: www.ambientihome.com
Entire contents ©2023, Sumner Communications, Inc. (203) 748-2050. All rights reserved. No part of this service may be reproduced in any form without the express written permission of Sumner Communications, Inc. except that an individual may download and/or forward articles via e-mail to a reasonable number of recipients for personal, non-commercial purposes.