INDEPENDENT RETAILER magazine is now the official news outlet for Wholesale Central visitors. Each monthly issue is packed with new product ideas, supplier profiles, retailing news, and business strategies to help you succeed.

See new articles daily online at IndependentRetailer.com.
JONZO INC. has developed The Fizz Cup, a clear plastic cup with threads on the bottom that screw onto a plastic soda bottle. Add ice cream into the eight ounce clear chamber, squeeze the bottle, and a fizzy reaction takes place as the soda fountains out of the bottle and over the ice cream. It's an instant ice cream float.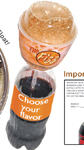 A straw is included with The Fizz Cup, which can penetrate deeper into the bottle and draw soda up, although it is not necessary to make a float. The user has control over the ratio of soda to ice cream and can also unscrew The Fizz Cup and drink any remaining soda directly from the bottle. The Fizz Cup can be rinsed out and reused.
Units can be packaged individually in polybags with a header, or they are available in bulk. The minimum order is a case of 240 pieces that wholesales for $108, which translates to 45 cents each. The suggested retail price is six units of The Fizz Cup for $9.99, although management reports that some retailers are selling for less.
For more information, contact:
Jonzo Inc.
1816 Fifth Street
Manhattan Beach, CA 90266
Tel.: 310-721-0998
Fax: 310-379-2524
Website: www.thefizzcup.com
Entire contents ©2022, Sumner Communications, Inc. (203) 748-2050. All rights reserved. No part of this service may be reproduced in any form without the express written permission of Sumner Communications, Inc. except that an individual may download and/or forward articles via e-mail to a reasonable number of recipients for personal, non-commercial purposes.