INDEPENDENT RETAILER magazine is now the official news outlet for Wholesale Central visitors. Each monthly issue is packed with new product ideas, supplier profiles, retailing news, and business strategies to help you succeed.

See new articles daily online at IndependentRetailer.com.
CALLISONS BRANDS has introduced Fruit Stickles, wooden skewers infused with flavor, which is transferred to food that is skewered. These six inch long birch sticks were initially seen as skewers, to hold fruit to make it more appetizing to children. Fruit Stickles have since been used for meats and other foods, in addition to fruit.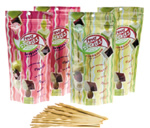 Fruit Stickles come in two flavors: cinnamon and tropical. They are fat free and sugar free, and come packaged in a colorful foil stand up sleeve that contains 20 sticks of the same flavor.
The sticks flavor fruit in minutes. The cinnamon flavor works especially well with chunks of apple, along with other fruits. In addition to flavoring fruits, the tropical flavor is especially successful when used to skewer chicken for a barbecue. Fruit Stickles are made in the U.S. and they are not reusable.
There is no minimum order. The wholesale cost is $2.50 a pack, and the suggested retail price is $4.99. On orders of 12 packs of the same flavor, Callisons Brands provides a free shelf talker, describing the product. Illustrations and ideas for use are also contained on the eye catching package.
For more information, contact:
Callisons Brands
1932 First Avenue Ste. 711
Seattle, WA 98101
Toll Free: 877-567-7440
Tel.: 206-812-7440
Fax: 206-812-7401
Website: www.callisonsfinefoods.com
Entire contents ©2023, Sumner Communications, Inc. (203) 748-2050. All rights reserved. No part of this service may be reproduced in any form without the express written permission of Sumner Communications, Inc. except that an individual may download and/or forward articles via e-mail to a reasonable number of recipients for personal, non-commercial purposes.