INDEPENDENT RETAILER magazine is now the official news outlet for Wholesale Central visitors. Each monthly issue is packed with new product ideas, supplier profiles, retailing news, and business strategies to help you succeed.

See new articles daily online at IndependentRetailer.com.
FOG FREE introduces the Fog Free eyeglass cleaner. It is a paste that has a tallow coconut soap base and can be used not only on eyeglasses, but on a range of other household items that are vulnerable to dust, finger prints, smudges and scratches.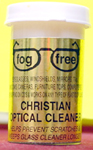 Fog Free comes in a one ounce jar. Because it is concentrated and takes just a small amount to clean and protect surfaces, a jar generally lasts for about six months. On eyeglasses, simply put a dab of Fog Free between fingers and wipe on the surface.
When using it on mirrors, picture frames, TV and computer screens or other larger surfaces, put Fog Free on a damp paper towel or cloth and rub it on. Fog Free not only cleans these surfaces, but also fills in existing scratches and protects from future ones. It works equally effectively on CDs and DVDs.
The minimum order is a sample pack of 50 units. The wholesale price is $2 a unit, and the suggested retail price of $10 is marked on the jar, although the company suggests selling units in a buy one, get one free combination. The wholesale price drops to $1.50 a jar on orders of 100 units, and to $1.25 a jar on orders of 200 or more.
For more information, contact:
Fog Free
124 Stine Street
Bristol, TN 37620
Tel.: 301-437-1834
Website: www.wholesalecentral.com/fogfree
Entire contents ©2022, Sumner Communications, Inc. (203) 748-2050. All rights reserved. No part of this service may be reproduced in any form without the express written permission of Sumner Communications, Inc. except that an individual may download and/or forward articles via e-mail to a reasonable number of recipients for personal, non-commercial purposes.