INDEPENDENT RETAILER magazine is now the official news outlet for Wholesale Central visitors. Each monthly issue is packed with new product ideas, supplier profiles, retailing news, and business strategies to help you succeed.

See new articles daily online at IndependentRetailer.com.
FRAME A FISH introduces a product of the same name, which is a flat screen aquarium that hangs on the wall. The patented Frame A Fish is just a little more than three inches deep and measures approximately 24 inches wide and 19 inches high.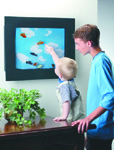 It is made of durable acrylic and comes in an easy to assemble kit that contains everything but the water and the fish. Included are the hanging hardware, a special filter, light, gravel, two background photos and directions.
The photos slide behind the unit. The kit contains a photo of clouds and another of an antique pony and wagon. However, Frame A Fish also works well with no background photo to expose the wall's paint or wallpaper. It can be fitted with any photo, such as family pictures, posters, sports favorites and other images.
The buyer can customize the unit to go with any room environment, such as a child's room, powder room, bedroom or entertainment area. The background art can be changed without disturbing the fish.
The unit is designed to require minimum maintenance. It holds up to three and a quarter gallons of water. Spring water is recommended. It is designed for two to three medium size fish.
There is no minimum order requirement. The wholesale price ranges from $58 a unit to $68 a unit, depending on the size of the order. The suggested retail price averages $119.95, and can sell for up to $149 a unit.
For more information, contact:
Frame A Fish
P.O. Box 202
Peru, IN 46970
Tel.: 765-860-9150
Fax: 765-689-3839
Website: www.frameafish.net
Entire contents ©2023, Sumner Communications, Inc. (203) 748-2050. All rights reserved. No part of this service may be reproduced in any form without the express written permission of Sumner Communications, Inc. except that an individual may download and/or forward articles via e-mail to a reasonable number of recipients for personal, non-commercial purposes.