INDEPENDENT RETAILER magazine is now the official news outlet for Wholesale Central visitors. Each monthly issue is packed with new product ideas, supplier profiles, retailing news, and business strategies to help you succeed.

See new articles daily online at IndependentRetailer.com.
SGB INNOVATIONS LLC introduces Fridge Funnel, a handy funnel that allows people to fill big vessels directly from the refrigerator door's water and ice dispenser. It's a funnel made of heavy duty plastic, and it measures approximately eight inches high and three inches in diameter.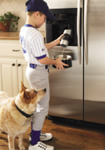 It is open at both ends, angled at one to fit flush with the dispenser and tapered on the other to literally funnel water or ice into any large container that doesn't fit beneath the dispenser. Among those are pet water bowls, sports bottles, coffee pots, ice buckets, ice coolers, large vases and more. Fridge Funnel can also be used to fill a blender, in order to use purified water and ice for smoothies or margaritas, and to fill pots for making soup or boiling pasta.
It has a central rubber grip, which makes it easy to use by children and others, and it comes in a choice of white or grey. The device is dishwasher safe and can be stored in a cabinet or in the freezer door.
The minimum order is 50 units. The wholesale price is $6.95 a unit. Suggested retail price is $14.95 a unit. A media campaign is now underway, and the product is being seen by television audiences nationwide.
For more information, contact:
SGB Innovations LLC
P.O. Box 631865
Irving, TX 75063
Tel.: 972-869-1494
Website: www.fridgefunnel.com
Entire contents ©2023, Sumner Communications, Inc. (203) 748-2050. All rights reserved. No part of this service may be reproduced in any form without the express written permission of Sumner Communications, Inc. except that an individual may download and/or forward articles via e-mail to a reasonable number of recipients for personal, non-commercial purposes.