INDEPENDENT RETAILER magazine is now the official news outlet for Wholesale Central visitors. Each monthly issue is packed with new product ideas, supplier profiles, retailing news, and business strategies to help you succeed.

See new articles daily online at IndependentRetailer.com.
HELMETS INC. introduces a series of neoprene face masks. They are offered in a choice of 30 different full color patterns, which include skull designs, camouflage patterns, a tiger, butterfly, roses, flames, a clown and a red, white and blue mask among others. There are designs for men and women.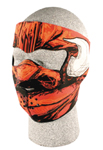 The flexible neoprene provides a snug fit. The masks have eye holes, a shaped nose with breathing holes and a small hole for the mouth. Some are full faces and others are partial. Some are reversible, containing different designs on each side or solid black on the other side of a design. They are water resistant, have Velcro closures and can be worn with goggles.
They were initially designed to dress up motorcycle riders, keep them warm and protect against wind, rain and insects. The masks are useful for hunters, skiers, fishermen and other outdoor sports enthusiasts. They are very popular with kids.
Units come individually packaged, and an illustration of the unit is shown on the package. Packages are ready to hang on pegboards and include the UPC code. There is no minimum order for existing Helmets Inc. customers. A 10 unit minimum is required from new customers. The wholesale cost is $6, and suggested retail price is $10.
For more information, contact:
Helmets Inc.
3625 First Avenue South
Birmingham, AL 35222
Toll Free: 800-827-7507
Tel.: 205-322-6607
Fax: 205-322-1187
Website: www.helmetsinc.com
Entire contents ©2021, Sumner Communications, Inc. (203) 748-2050. All rights reserved. No part of this service may be reproduced in any form without the express written permission of Sumner Communications, Inc. except that an individual may download and/or forward articles via e-mail to a reasonable number of recipients for personal, non-commercial purposes.