INDEPENDENT RETAILER magazine is now the official news outlet for Wholesale Central visitors. Each monthly issue is packed with new product ideas, supplier profiles, retailing news, and business strategies to help you succeed.

See new articles daily online at IndependentRetailer.com.
FUNKY MONKEY SNACKS has introduced all natural fruit snacks that contain no additional sugar, preservatives or colors, and are free from gluten, wheat and dairy. They are also certified Kosher-Parve.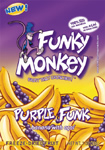 They utilize a proprietary freeze drying process on whole slices and large pieces of real fruit that removes 97 percent of the moisture content and provides a crisp, crunchy texture. This process is not used on any other snacks available in the U.S.
Other methods of freeze drying, according to Funky Monkey's management, use a different process on small pieces of fruit, which results in a chewier, rubbery texture with less flavor. The Funky Monkey system preserves the natural wholesomeness of real fruit to provide a healthier and more natural alternative to other dried fruit and fruit snacks.
Funky Monkey comes in a choice of four flavors: "Bananamon," which is a combination of banana and cinnamon; "Carnaval Mix," which combines banana, pineapple, apple, papaya and raisins; "Jivealime," a mixture of pineapple and lime juice, and "Purple Funk," which combines banana with acai, a fruit pronounced ah-sigh-ee.
All come in one ounce bags that are brightly colored and feature the Funky Monkey character. Each bag contains three servings of fruit. The minimum order is 20 cases of 12 bags each, and it can be of assorted flavors. A display unit that holds 48 units of assorted flavors is available. The wholesale price was not finalized by deadline, but the suggested retail price is $1.99 per unit.
For more information, contact:
Funky Monkey Snacks
11650 Olio Road -263, Ste. 1000
Fisher, IN 46037
Toll Free: 800-783-1326
Toll Free Fax: 888-696-3450
Website: www.funkymonkeysnacks.com
Entire contents ©2023, Sumner Communications, Inc. (203) 748-2050. All rights reserved. No part of this service may be reproduced in any form without the express written permission of Sumner Communications, Inc. except that an individual may download and/or forward articles via e-mail to a reasonable number of recipients for personal, non-commercial purposes.