INDEPENDENT RETAILER magazine is now the official news outlet for Wholesale Central visitors. Each monthly issue is packed with new product ideas, supplier profiles, retailing news, and business strategies to help you succeed.

See new articles daily online at IndependentRetailer.com.
KATYDID COLLECTION, which began with fashionable clothing, handbags and accessories for women, and later added the Mattox men's line, has introduced a line of T-shirts and tanks for little girls between the ages of three to 10. These are a mini version of the company's popular women's tattoo inspired tees and tanks. The new line features such popular motifs as crosses, crowns and punky phrases, such as Rock Angel and Rebel at Heart, in bold lettering across the front.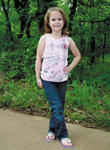 The children's line currently contains 10 T-shirts and five tanks, in four, six, eight and 10. In all, there are 15 different designs and each is offered in three to five different colors. That provides a choice of 35 to 40 stock keeping units in short sleeve T-shirts alone. The color choices are exuberant, and the designs feature intricate scrolls and are shown on both the front and back of the shirts. All are cotton and machine washable. The suggested retail price is around $28.95.
The minimum order is $100 and can include a mix and match of styles and colors. However, the designs are sold in sets of four of the same color and design, with one each of the four different sizes. The set wholesales for $48.95, which translates to about $12.25 a unit.
For more information, contact:
Katydid Collection
2311 Farrington Street
Dallas, TX 75207
Tel.: 469-324-6254
Fax: 214-637-5302
Website: www.katydidcollection.com
Entire contents ©2022, Sumner Communications, Inc. (203) 748-2050. All rights reserved. No part of this service may be reproduced in any form without the express written permission of Sumner Communications, Inc. except that an individual may download and/or forward articles via e-mail to a reasonable number of recipients for personal, non-commercial purposes.