INDEPENDENT RETAILER magazine is now the official news outlet for Wholesale Central visitors. Each monthly issue is packed with new product ideas, supplier profiles, retailing news, and business strategies to help you succeed.

See new articles daily online at IndependentRetailer.com.
BIG DADDY GOLF LLC introduces Big Daddy Driver, a novelty golf club that has a weed whacker hidden inside an authentic looking golf driver. Designed as a joke for all golfers who hate getting into the rough, Big Daddy Driver is indistinguishable from a real driver when it's in the golf bag.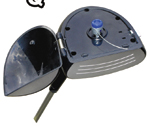 It has a rubber and plastic golf head that resembles today's large drivers, and a metal shaft. Press a button on the bottom of the unit, and a flap opens up to reveal weed whacker. It operates on six AA batteries, which are included and replaceable.
While it is not specifically designed for cutting the lawn, it will cut grass. It's main objective is to get a laugh from golfing buddies.
The minimum order is two dozen units. In that quantity, the wholesale price is $30. Suggested retail price is $44.95 and up. The manufacturer has surveyed the golf community and found that gifts to golfers sell in a range of $50 to $100. For more information, contact:
Big Daddy Golf LLC
10645 North Tatum Boulevard, Ste. 200-412
Phoenix, AZ 85028
Tel.: 480-284-5956
Toll Free Fax: 866-599-8698
Website: www.bigdaddydriver.com
Entire contents ©2022, Sumner Communications, Inc. (203) 748-2050. All rights reserved. No part of this service may be reproduced in any form without the express written permission of Sumner Communications, Inc. except that an individual may download and/or forward articles via e-mail to a reasonable number of recipients for personal, non-commercial purposes.