INDEPENDENT RETAILER magazine is now the official news outlet for Wholesale Central visitors. Each monthly issue is packed with new product ideas, supplier profiles, retailing news, and business strategies to help you succeed.

See new articles daily online at IndependentRetailer.com.
CRAZY RUMORS introduces all natural gourmet and vegan lip balms. There are 12 in the series, six in different coffee flavors and six in different tea flavors. The coffee selection, called "Perk-Lip Latte," includes amaretto, coffee bean, French vanilla, mocha, hazelnut and Irish cream flavors. The "Brew-Tea Balm" assortment includes plum apricot, orange bergamot, apple spice, peppermint lemongrass, ginger peach and spice chai.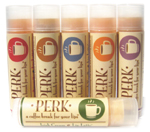 All ingredients are plant and vegetable based and caffeine free. They contain the same flavors found in their liquid counterparts. Contents include moisturizing shea butter and soothing vegetable oil. They are packaged in traditional lip balm dispensers.
The minimum order is $96 for an assorted case of 48 units in a free countertop displayer. The unit wholesale price is $2, and suggested retail price is $4. There are two different gift set options, ideal as holiday stocking suffers.
There are three packs that come in a box and contain the top three sellers in either Perk-Lip Latte or Brew-Tea Balm. The company calls for a minimum order of three gift sets, and the wholesale price is $6 a three pack, with a suggested retail price of $12 per three pack box.
There are also six pack units, one containing all six Perk-Lip Latte flavors and another containing all six Brew-Tea Balm flavors. There is no minimum order for six packs, which give a break on the wholesale price. It is $11 per six pack, and suggested retail is $22 a unit.
For more information, contact:
Crazy Rumors
5880 Town Bay Drive, # 10-32
Boca Raton, FL 33486
Toll Free: 877-786-6776
Tel.: 561-544-6131
Fax: 954-206-2392
Website: www.crazyrumors.com
Entire contents ©2023, Sumner Communications, Inc. (203) 748-2050. All rights reserved. No part of this service may be reproduced in any form without the express written permission of Sumner Communications, Inc. except that an individual may download and/or forward articles via e-mail to a reasonable number of recipients for personal, non-commercial purposes.