INDEPENDENT RETAILER magazine is now the official news outlet for Wholesale Central visitors. Each monthly issue is packed with new product ideas, supplier profiles, retailing news, and business strategies to help you succeed.

See new articles daily online at IndependentRetailer.com.
J & A RAPAPORT LTD. introduces the patent pending Grip 'N Sip, a device that snaps onto a beverage can. It provides a handle that keeps the hand warm and dry, even when holding a cold, wet can. Grip 'N Sip is made of durable, ABS plastic and is offered in a choice of five colors and three sizes. There are sizes to hold 12, 16 and 24 ounce beverage cans. The color choices are black, blue, red, white and metallic silver.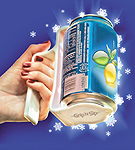 Units come poly bagged singly or in multipacks, and the company will work with retailers to supply the combination of colors and sizes (in multipacks) that a retailer wants. The 12 ounce size is the most popular unit. The minimum order is 20 pieces. On orders of 250 units or more, the retailer can have its own logo applied at no cost, other than a one time set up charge, which is approximately $30.
On orders of 20 to 50 pieces, the wholesale cost of the 12 ounce unit is $2.05. It drops to $1.90 for 51 to 100 pieces. On orders of 250, including retailer logo, the wholesale is $1.75, and for 1,000, wholesale is $1.35. The suggested retail price is $3.95. The wholesale cost for a 16 ounce unit on a minimum order is $2.30. It falls in increments to as low as $1.65 on orders of 1,000 or more. The suggested retail is $4.95. The wholesale cost for the 24 ounce size is $2.60 on a minimum order. Suggested retail is $5.49.
For more information:
J & A Rapaport Ltd.
6550 Springfield Avenue, Ste. 108
Lorado, TX 78041
Tel.: 956-722-0561
Fax: 956-722-0410
Website: www.gripnsip.com
Entire contents ©2022, Sumner Communications, Inc. (203) 748-2050. All rights reserved. No part of this service may be reproduced in any form without the express written permission of Sumner Communications, Inc. except that an individual may download and/or forward articles via e-mail to a reasonable number of recipients for personal, non-commercial purposes.