INDEPENDENT RETAILER magazine is now the official news outlet for Wholesale Central visitors. Each monthly issue is packed with new product ideas, supplier profiles, retailing news, and business strategies to help you succeed.

See new articles daily online at IndependentRetailer.com.
The Guayabera, a Seattle company founded to supply Latino shirts by that name, has grown far beyond its beginnings, without losing its focus on ethnic fashion. For one thing, owner Kevin Baldwin notes that U.S. demographics are changing, and fashion trends along with it.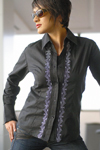 In addition, fashion is getting bolder for everyone, and many segments of the population are looking for expanded and unique styles. To meet that growing demand, The Guayabera now offers more novelty shirt styles than any similar supplier, Baldwin says.
The selection now includes Havana, Cubavera and Hawaiian print shirts, along with a line of linen pants. The company has also significantly increased its selection of women's and children's styles. Included are dresses for Quinteanera, a children's coming of age celebration, and wedding attire.
The selection comes in all sizes and in a variety of fabrics, including poly/cotton blends, cotton and Irish and Italian linen. While offering traditional styling, Baldwin says, "We have also developed some styles that are altered to provide more contemporary styles."
They include the addition of colors, French cuffs and larger collars on some units. A variety of decorative options are available, and The Guayabera will custom manufacture Guayabera and Havana shirts and dresses to customers' own color and design specifications.
It operates manufacturing facilities in China and Central America, which gives control over both quality and styling. A catalog is available free to retailers, which delineates wholesale prices. The suggested retail prices range between about $30 and $60 a unit, while the linen goods have a suggested retail price of between $90 and $125 a unit.
Baldwin says the retail success with these products, which took off instantly in neighborhoods with a high proportion of Hispanics, now extends to all markets and geographies.
For more information, contact:
The Guayabera
4546 34th Avenue
Seattle. WA 98118
Toll Free: 877-374-3299
Tel.: 760-239-1244
Fax: 760-787-1761
Websites: www.fridayshirts.com
Entire contents ©2023, Sumner Communications, Inc. (203) 748-2050. All rights reserved. No part of this service may be reproduced in any form without the express written permission of Sumner Communications, Inc. except that an individual may download and/or forward articles via e-mail to a reasonable number of recipients for personal, non-commercial purposes.