INDEPENDENT RETAILER magazine is now the official news outlet for Wholesale Central visitors. Each monthly issue is packed with new product ideas, supplier profiles, retailing news, and business strategies to help you succeed.

See new articles daily online at IndependentRetailer.com.
CSB COMMODITIES INC. is the exclusive licensed supplier of The ZipIt, a device designed to quickly and easily open hard plastic clam shell packages. It is a hand held device that works like a can opener. Simply remove the cover that protects two circular blades. The ZipIt hooks onto the clam shell package. Move it along one edge of the package and veer off at the corner, then proceed to cut along the other edges.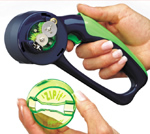 ZipIt was invented by Steve Fisher, who devised it for his aging mother. It is billed as the world's first and only battery operated clam shell package opener. The aging are not the only people who find opening these packs difficult, frustrating and even dangerous. The ZipIt makes it easy, and is approximately eight inches long and works well with virtually all sizes of clam shell packages. It operates on two AA batteries, which are replaceable and not included with the unit.
The ZipIt comes in a four color box. It's ideal for home and office, makes a welcome gift, and is covered by a warranty. The opening minimum order is a case of 32 units. The wholesale cost is around $10, depending on volume. Suggested retail is $19.95.
For more information:
CSB Commodities Inc.
14000 Military Trail
Delray Beach, FL 33484
Toll Free: 800-471-1367
Tel.: 561-381-3383
Fax: 561-381-3388
Website: www.wrapragerelief.com
Entire contents ©2023, Sumner Communications, Inc. (203) 748-2050. All rights reserved. No part of this service may be reproduced in any form without the express written permission of Sumner Communications, Inc. except that an individual may download and/or forward articles via e-mail to a reasonable number of recipients for personal, non-commercial purposes.