INDEPENDENT RETAILER magazine is now the official news outlet for Wholesale Central visitors. Each monthly issue is packed with new product ideas, supplier profiles, retailing news, and business strategies to help you succeed.

See new articles daily online at IndependentRetailer.com.
AIR WAVES INC. has an unparalleled assortment of heat transfer graphics and all the equipment necessary to help a retailer get started in the imprinted T-shirt business. It has more than 2,000 graphics in stock, including ones containing rhinestones and glitter.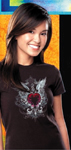 In addition, the company has more than 5,000 individual pieces of artwork that can be reconfigured in virtually infinite ways to provide custom graphics. The minimum for custom is $100, plus a $50 set up fee, and the order can be fulfilled in as little as five days. This allows retailers to cultivate business among local schools, sports teams and community groups. Another area of business relies on a mixture of stock and custom, specifically targeted to resorts and vacation areas. There are stock graphics that can be customized to an area, such as fly fishing at a particular location. The wholesale cost of stock transfers begins at five cents for tiny little tags that can be applied as T-shirt labels, to as much as $4. The size and number of colors determine the cost of a transfer. Air Waves also offers a range of heat transfer equipment. The least expensive unit is $654, and is 15 inches square, adequate for T-shirts. The most expensive unit is $2,850 and is 16 by 20 inches. Both provide the same imprint quality, but the chief difference between the two is their level of automation, along with the size of the print area. The larger unit has an air input compressor that automatically adjusts the pressure. Pressure can be controlled on the smaller unit; however, it is must be done manually. While Air Waves does not provide blank T-shirts, the company will guide retailers to local suppliers. The transfer equipment comes with full instructions. Mastering the art is simple, and utilizing the transfers is a one step process. For more information, contact:
Air Waves Inc.
7787 Graphics Way
Lewis Center, OH 43035
Toll Free: 800-468-7335
Tel.: 740-548-1200
Fax: 740-548-1212
Website:
www.airwavesinc.com
Entire contents ©2023, Sumner Communications, Inc. (203) 748-2050. All rights reserved. No part of this service may be reproduced in any form without the express written permission of Sumner Communications, Inc. except that an individual may download and/or forward articles via e-mail to a reasonable number of recipients for personal, non-commercial purposes.