INDEPENDENT RETAILER magazine is now the official news outlet for Wholesale Central visitors. Each monthly issue is packed with new product ideas, supplier profiles, retailing news, and business strategies to help you succeed.

See new articles daily online at IndependentRetailer.com.
MIRACLE MANUFACTURING & SALES, which has been supplying incense for 20 years, is offering a start up kit that offers retailers rapid turnover and a high return from a small amount of space. The free displayer holds 30 bundles of incense sticks, and the kit includes another 10 bundles for backup.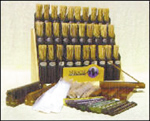 In addition, it contains two coffin boxes and six flip top boxes, along with 12 free ash catchers and 300 free bags. The kit wholesales for $200 and yields a return of more than $450 at a minimum markup. It also gives retailers the flexibility to increase margins.
The incense from Miracle is premium quality and is offered in 11 and 19 inch sticks and in one and two inch cones. New fragrances are added all the time.
The company currently maintains approximately 65 scents in stock, and among the newer additions are dragon's blood, lick me all over, cocomango, butt naked and fuzzy navel. The best sellers, however, are such standards as patchouli, China rain, sandalwood and cool water.
Regular 11 inch sticks wholesale for $3 per bundle of 100, and the jumbo 19 inch sticks wholesale for $5 for a bundle of 50 sticks. They carry markups of up to 300 percent. In addition to the $200 start up kit, the company offers an array of additional display racks, all designed primarily for the independent gift shop.
For more information, contact:
Miracle Manufacturing & Sales
2204 Rice Avenue
West Sacramento, CA 95691
Toll Free: 800-777-8018
Tel.: 916-371-8424
Toll Free Fax: 888-371-2401
Website: www.miracleincense.com
Entire contents ©2023, Sumner Communications, Inc. (203) 748-2050. All rights reserved. No part of this service may be reproduced in any form without the express written permission of Sumner Communications, Inc. except that an individual may download and/or forward articles via e-mail to a reasonable number of recipients for personal, non-commercial purposes.