INDEPENDENT RETAILER magazine is now the official news outlet for Wholesale Central visitors. Each monthly issue is packed with new product ideas, supplier profiles, retailing news, and business strategies to help you succeed.

See new articles daily online at IndependentRetailer.com.
EAGLEVIEW USA INC. is the creator, manufacturer and supplier of the original Hillary Nutcracker. It depicts the New York Senator and presidential candidate in durable resin, wearing her characteristic pantsuit attire. Eagleview notes that regardless of the Democratic presidential primary outcome, Senator Clinton is destined to be around for a long time.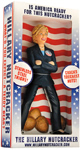 The nutcracker figure is about nine inches tall, and the interior of the thighs, along with a hidden spring mechanism, are of stainless steel. Like traditional nutcrackers, this unit is designed to crack a walnut. The minimum order is two dozen. The wholesale price is $10 each, and the retail price ranges from $19.95 to $29.95. Two displayers are available. A countertop unit takes about one cubic foot of space and holds a dozen nutcrackers. It sells for $7. A floor unit stands 4.5 inches high and holds 18 pieces. It is offered for $17. For more information, contact:
Eagleview USA Inc.
1545 Fourth Avenue SW
Rochester, MN 55902
Tel./Fax: 507-280-7864
Website:
www.hillarynutcracker.com
Entire contents ©2022, Sumner Communications, Inc. (203) 748-2050. All rights reserved. No part of this service may be reproduced in any form without the express written permission of Sumner Communications, Inc. except that an individual may download and/or forward articles via e-mail to a reasonable number of recipients for personal, non-commercial purposes.