INDEPENDENT RETAILER magazine is now the official news outlet for Wholesale Central visitors. Each monthly issue is packed with new product ideas, supplier profiles, retailing news, and business strategies to help you succeed.

See new articles daily online at IndependentRetailer.com.
ALL FUN GIFTS carries approximately four dozen different designs of hookahs. They range in size from about eight inches to as large at 36 inches, and have a similarly broad price range.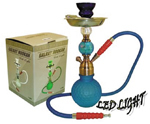 There are units that light up and others that have what looks like a fish tank on the bottom. Every conceivable shape of glass is represented in the line, and some units have a single hose, while others have as many as four. All come individually packaged.
The least expensive unit in the line is an eight inch mini hookah in the traditional configuration with a crystal base. The wholesale price is $6.99, and suggested retail ranges from $12 to $15.
The bestseller is a line of 10 inch units that come with or without an LED light in the bottom. These feature pumpkin or pear shaped glass. The units that do not have an LED light wholesale for $8.99 and have a suggested retail price of $18 to $22. The unit with the light wholesales for $10.99, and has a suggested retail price of $20 to $25.
In addition to hookahs, All Fun Gifts supplies a broad range of related products, including vaporizers, grinders, scales, incense and oils, posters of Bob Marley and the Grateful Dead and more. The company offers a 72 page catalog.
For more information, contact:
All Fun Gifts
2000 Riverside Drive Unit 11 D
Ashville, NC 28804
Tel.: 828-252-5228
Fax: 828-236-2658
Website: www.allfungifts.com
Entire contents ©2023, Sumner Communications, Inc. (203) 748-2050. All rights reserved. No part of this service may be reproduced in any form without the express written permission of Sumner Communications, Inc. except that an individual may download and/or forward articles via e-mail to a reasonable number of recipients for personal, non-commercial purposes.