INDEPENDENT RETAILER magazine is now the official news outlet for Wholesale Central visitors. Each monthly issue is packed with new product ideas, supplier profiles, retailing news, and business strategies to help you succeed.

See new articles daily online at IndependentRetailer.com.
iWALKMYDOG.COM has introduced a dog harness that eliminates the need for choke collars while effectively training and walking the animal. Called the, "Pet Walking Solution Harness," it is a patented design that employs a low center of gravity rope tension system that feeds through a D ring configuration.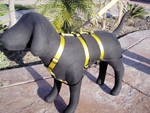 The design moves the choke collar concept from the neck, where injuries can occur, to the pet's center of gravity, which is behind the front legs and around the shoulder. While keeping the dog safe, it also puts control of the pet at the walker's fingertips. The harness is offered in small, medium, large and extra large. The nylon version comes in a choice of four standard colors: black, navy, red and yellow. Sixteen custom colors are offered at a slight premium. Leather versions of the harness are also offered at a premium price. The package includes the harness, a matching lead and the center of gravity rope. A handle attachment is also available for a handicapped or small pet. The suggested retail price for a nylon unit in a standard color is $49.95. In custom colors it is $54.99. The leather versions have a suggested retail price from $79.95 to $129.95, depending on size. For wholesale pricing and more information, contact:
iWalkMyDog.com
P.O. Box 7660
Norco, CA 92860
Toll Free: 877-272-0577
Tel.: 951-272-5777
Fax: 951-848-9533
Website:
www.iwalkmydog.com
Entire contents ©2023, Sumner Communications, Inc. (203) 748-2050. All rights reserved. No part of this service may be reproduced in any form without the express written permission of Sumner Communications, Inc. except that an individual may download and/or forward articles via e-mail to a reasonable number of recipients for personal, non-commercial purposes.