INDEPENDENT RETAILER magazine is now the official news outlet for Wholesale Central visitors. Each monthly issue is packed with new product ideas, supplier profiles, retailing news, and business strategies to help you succeed.

See new articles daily online at IndependentRetailer.com.
LEVY TRADING introduces Magic Draw, a kit that consists of a 15 by 12 inch special drawing pad, a special two sided pen that draws with light, and two stencils. All come in an easy to carry, durable plastic envelope.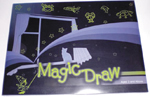 The pad's patented surface glows in the dark 10 to 15 seconds after it has been written or drawn on, using the pen light. The stencils in the kit include one containing the ABCs and numbers, while the other depicts popular animal shapes. The pen, however, can be used to outline or draw virtually any shape or writing. Once the lights come back on, the images disappear. The other side of the special pen can be used to write or draw on the body. The message or image remains invisible, and can only be seen when the pen light is turned on. Magic Draw is not only educational and fun for children, but it also helps them overcome their fear of darkness. It can be played indoors or out. The minimum order is one case of 24 units. In that quantity, the wholesale price is $10. The suggested retail price is $34.99. For more information, contact:
Levy Trading
5608 South Soto Street
Huntington Park, CA 90255
Tel.: 323-582-6222
Fax: 323-581-2111
Website:
www.levytrading.com
Entire contents ©2022, Sumner Communications, Inc. (203) 748-2050. All rights reserved. No part of this service may be reproduced in any form without the express written permission of Sumner Communications, Inc. except that an individual may download and/or forward articles via e-mail to a reasonable number of recipients for personal, non-commercial purposes.