INDEPENDENT RETAILER magazine is now the official news outlet for Wholesale Central visitors. Each monthly issue is packed with new product ideas, supplier profiles, retailing news, and business strategies to help you succeed.

See new articles daily online at IndependentRetailer.com.
It is said that necessity is the mother of all invention.This timeless adage certainly proved true for company founder and president Lisa Sperow when she started Madison Avenue Closeouts in 2002.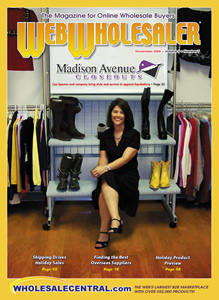 In early 2001, Sperow was on maternity leave with her oldest daughter and dreaded the thought of returning to a job with corporate America that would include long hours and lots of travel. A graduate of Miami University with a degree in Business Administration, she had spent her entire career thus far working in sales and management within the technology sector, but decided it was time for a change. "I had gotten somewhat hooked on eBay while I was on maternity leave," she says with a laugh. Her purchases included clothing for both herself and her daughter. She found a few deals, particularly some new, brand name items with the tags intact.Ever the bargain shopper, Sperow was curious about where the sellers were able to buy their items so inexpensively, prompting her to research the liquidation practices of retailers and manufacturers. She soon learned how retailers were willing to liquidate perfectly good products for a fraction of the price, simply in an effort to rotate inventory and maintain a fresh shopping experience for their clientele.At this point, Sperow recognized a new business opportunity. Initially, she considered starting a small, brick-and-mortar retail enterprise in the Charlotte, NC area. She found some wholesalers who specialized in liquidated merchandise and developed relationships with several independent retail outlets who agreed to lease her space. Soon, however, she discovered the drawbacks of the liquidation business, as she began to encounter problem after problem with the shipments. "I was so disappointed," she recalls. "I received consistently high damages and the merchandise was never even close to what was advertised. The salespeople that I worked with were unprofessional and provided terrible customer service."With her own professional sales background, this trend of poor service especially rattled Sperow. Dissatisfied with her experiences, in 2002 she decided that the industry needed a wholesaler with integrity and launched Madison Avenue Closeouts. Her idea for the successful business is based on a few basic ideas: "Provide great products. Properly set expectations. Offer superior customer service."
Quality First
The first task at hand was to decide exactly what product lines Madison Avenue Closeouts would sell, or, more specifically, not sell. "Many of the wholesalers we had worked with or had considered buying from were selling everything under the sun-apparel, electronics, appliances, even liquidated groceries. Though these companies offered many product lines, it was obvious that they did not know much about any one of them." This observation prompted Sperow's decision to focus on apparel-related items only. "Clothing, footwear, lingerie, jewelry, etc.-if you can wear it, it's something we would consider carrying in our warehouse," she explains.
Finding a Niche
From her early experience with the liquidation industry, Sperow quickly learned that there were various tiers of quality in merchandise. With her history in sales of premium products, this savvy entrepreneur knew right away that she wanted Madison Avenue Closeouts to establish a presence as a wholesaler of only high quality goods."I had previously worked with loads that were so damaged, so old, or of just such poor quality that they were an absolute nightmare. Personally, I'd rather pay a bit more for peace of mind. There was an opening for that in this business, and I jumped on it," she says.Aside from her personal preference, Sperow believes the decision to specialize in first quality goods from well-known, upscale and reputable retailers ultimately means better business. This kind of specialization lets Madison Avenue focus on the customers they want, rather than just going after everyone. "We know there is a market for lower-cost, lower-quality goods, but that is just not where our focus is." She further explains that while the company sells to all kinds of resellers, including Ebayers, retailers, flea marketers, brokers and distributors, all their customers are extremely discerning when it comes to quality and value. In addition to carrying items from upscale sources, Madison Avenue Closeouts stocks only first quality goods at its warehouse. "We have had experience working with both first quality as well as customers returns loads," Sperow says. "Anyone who has worked with returns knows that the damage percentage is always much higher." Madison Avenue Closeout is serious about the decision to carry first quality goods only. Everything that that comes into the warehouse undergoes a double-inspection process that allows the company to offer a quality guarantee on their shipments. Sperow sheds light on the rigorous procedure. "We pull all items with any flaws, no matter how small. We look for missing buttons, broken zippers, snags in the material-basically any imperfection." If customers receive anything that is ever not what they ordered, whether it is the wrong item, incorrect piece count, or exceeds the quoted damage percentage, Madison Avenue Closeouts guarantees to rectify the situation. Always willing to cater to the customer, the company will special-order Customer Returns loads for customers who are interested, but cannot offer the full Quality Guarantee as they are not inspected in-house. Unwilling to be outdone, however, the company does offer several assurances on these products.
The Right Expectations
When asked to expound upon the experiences that shaped her business model, Sperow does not hesitate to stress the importance of the overall buying experience. "One of the most important measures a customer can cite as a reason for either being happy or unhappy with any product or service is how closely their buying experience matched their expectations for it," she says. She relates her own disappointing buying experiences with other wholesalers who did not meet her expectations, and how these disappointments spurred her to establish a policy of full disclosure at Madison Avenue Closeouts.Katie Glodowski, Sales Manager for the company, goes into detail. "We always try to give customers as much information as possible on the lots. We can let them know if we're running heavy in particular sizes, brands, or certain types of items." All employees, regardless of position, are required to work in the warehouse as part of their training period, and, to stay current each employee logs a minimum number of hours in the warehouse each month. "It's actually one of the things I like best about my job," says Glodowski. "I get to work directly with the merchandise myself, and I know how good it is."
Superior Service Across the Board
Clearly, much of Madison Avenue Closeout's success lies in its employees' commitment to superior service. Pamela Robinson, Warehouse Manager, says, "Customer service is something we talk about in every department here. Even though my staff doesn't have the front-line interaction with customers, we still see opportunities to provide great service on the back-end of things." Robinson cites several examples, "Aside from our close inspection process, we make sure that we carefully follow all of the company's packing guidelines. We even see things like neatly-folded items and well-packaged boxes as ways that we can contribute."Sperow's pride in her team is almost tangible. "Everyone has a lot of personal pride when it comes to doing each of their jobs, and that's an important attitude to have."
A Makeover in the Works
Until recently, Madison Avenue Closeouts had primarily been using a bin system in their warehouse. Customer feedback prompted them to do a complete warehouse reset and switch to a more rack-intensive system."We have had growing demand over the past year from customers who have wanted to come to the warehouse and 'pick and choose' their merchandise," Sperow says. In order to accommodate these customers with more customized orders, the company schedules appointments for resellers to shop at the warehouse to select their own mix of merchandise. Customers can arrange a warehouse tour/buying appointment Mondays - Wednesdays from 9 am-5 pm EST. The minimum required purchase is $500. Customers can cash and carry the items or arrange for Madison Avenue Closeouts to ship the goods.Another big change is a new website that is currently under development. The launch date is tentatively scheduled for late November to early December. The new site will offer easier product navigation, a host of new products and a whole new look and feel. Sperow hints at a few bigger changes, but will not yet reveal them. "Just stay tuned over the next couple of months!" she teases.
Keeping It Simple
As Sperow would tell you, sometimes the simplest ideas are the best ones. Her dissatisfaction with the liquidation industry turned into a successful and ever-growing enterprise. "We do what it takes to partner with our customers for the long-term. The longer we work together, the better we will understand what works for their businesses." There's an idea that works for everyone.For more information:
Madison Avenue Closeouts
5400 West WT Harris Blvd Suite K
Charlotte, NC 28269
Toll Free: 1-866-795-7990
Tel.: 704-596-0554
Fax: 704-596-0594
Website:
www.madisonavenuecloseouts.com
Entire contents ©2023, Sumner Communications, Inc. (203) 748-2050. All rights reserved. No part of this service may be reproduced in any form without the express written permission of Sumner Communications, Inc. except that an individual may download and/or forward articles via e-mail to a reasonable number of recipients for personal, non-commercial purposes.