INDEPENDENT RETAILER magazine is now the official news outlet for Wholesale Central visitors. Each monthly issue is packed with new product ideas, supplier profiles, retailing news, and business strategies to help you succeed.

See new articles daily online at IndependentRetailer.com.
Jeffrey Kodba was a 24-year-old college graduate making use of his diploma working as an IT technician, sharing an apartment with his brother, Joseph, and enjoying his life in Pittsburgh. Everything was smooth-sailing along the scenic City of Bridges, where the Allegheny and Monongahela rivers merge to form the Ohio. Then, like many great entrepreneurs, Kodba had an idea. It occurred to him that since he had gained such an extraordinary knowledge of computers and their parts in such a short time, that the next step should be selling used computer products.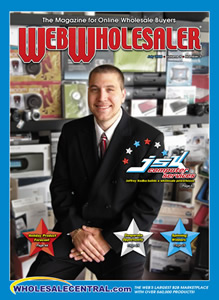 "Basically, I got started by fixing computers and doing IT work," said Kodba, who is now the 27-year-old president of JSK Computer Services, LLC. "It gave me the background I needed to understand computers as products. It helped me comprehend what people are looking for when it comes to what's hot on the market." Kodba knew what the best and most durable brands were. He realized that if he developed a reputation for selling inexpensive, untested products that actually worked, his reputation and business would grow over time in the high-demand computer products niche. He was also intuitive enough to glimpse the overwhelming leverage eBay could bring him in the marketplace. He and his IT colleague Nicholas Palmer agreed to work together and opened an eBay seller account. They began sifting through the bins at secondhand stores and electronics stands at flea markets to find used computers and related products to place on the online bidding site. "I had my bedroom, my computer and my friend helping me," Kodba said. "There wasn't much else to the initiative at that point."
Brotherly Spirit Triumphs
One day, Kodba bought computer parts from a wholesale company that earned his new business a pretty penny on eBay. From there, the relationship grew with the wholesaler and a whole new world opened up for the young entrepreneur. Soon he was brokering computers and parts for multiple wholesalers. He began forming even more strategic partnerships with distributors in order to obtain products in a more direct fashion, decreasing prices while increasing his margins. Kodba eventually moved to Erie, PA, where he could operate his growing business at a lower overhead than in the Pittsburgh real estate market. Soon he had a warehouse with truckloads of products coming in and JSK Computer Services was founded. It took less than a year for Kodba to become somewhat overwhelmed with sales. He needed help from someone he trusted and turned to his brother, Joseph, to pitch the idea of a partnership in the Erie business. However, convincing his brother to abandon Pittsburgh was not as simple as Jeffrey had hoped. For the previous seven years Joseph had established a career as a production editor and photographer for CBS Viacom that he was reluctant to leave. Eventually though, family values prevailed and the Kodba brothers became business partners. "My brother and I have always been close," Jeffrey Kodba said. "And since he came aboard, our business has grown considerably. I attribute a great deal of our success to Joseph's knowledge." Currently, JSK has constant truckloads coming and going and the company maintains an established retail storefront. Since 2004, the company has grown at an annual rate of 35 to 40 percent. Last year they were close to $1,000,000 in sales. "We went from being a middle-man broker to a full-blown distribution company," Kodba reveals. "We have been working very hard. Our lives changed nearly overnight."
Unbeatable Products & Prices
Indeed, Kodba's ascent into the wholesale industry happened at a dizzying rate. It was only two years ago that he and his brother launched his website, www.jskcomputerservices.com, and due to its skyrocketing sales, they have recently migrated to a bigger, better operations warehouse in Erie. Of course, having a strong business plan has been at the heart of their success. Part of the plan was to attract small players who were disenfranchised by the high minimum-order requirements maintained by most sellers. "When I started the business, I was upset that many sellers required pretty steep minimum orders," Kodba explained. "Therefore, I only required one pallet or one box. We've kept that policy as we have grown. However, if you buy volume, we offer discount pricing according to order size. We work with eBayers, flea marketers, small store owners, exporters and large businesses(almost every business kind and size you can imagine." The website's best-selling product categories include LCD Monitors, Xbox 360s and CRT Monitors, as well as pallets and boxes of various types of electronics products. Most boxes/pallets range from $200 to $800. Additionally, the company sells a wide range of surplus and overstock products and returns. In short, JSK's products are the best you will find for the prices. "They are not cherry-picked," said Kodba, "and our products are clean. We get a lot of merchandise from government liquidations. We acquire quality products from companies which upgraded their stock. People travel long distances to visit our retail store and facilities. There is a healthy financial reason for their interest and loyalty." Web Redesign
In addition, Kodba and his team wanted to make their online experience the best around. They began retooling www.jskcomputerservices.com earlier this year, wrapping up a major redesign in May. Kodba revealed details on the three biggest changes to the site:
Easier to navigate, scroll through and find items;
Employ Macromedia Flash enables pictorial slideshows to showcase the products;
New, more detailed intro page, employing an Adobe Flash clip. "We received a lot of positive feedback from our customers," Kodba explained. "They love it. They say it looks modern and more professional than our old site."
In addition, JSK Computer Services utilizes the Yahoo Messenger chat system, which allows customers to text back and forth with the service staff during business hours. The chat system also lets Kodba and his team connect with international customers and prospects in a way that is different than phone, fax or email. "We have a considerable amount of global export business," Kodba said. "The Messenger application allows us to communicate with customers all around the world. For instance, they might not have access to a phone at a particular moment, or, if they don't speak great English but can type a little English, it allows them to learn more about our products." Kodba and his team also added blogs in mid-May and have been ramping up their announcements, news and other relevant content. He and Joseph, who is the Operations Manager, continuously update the blogs. "We want to let new and existing customers know about what we have going on," Jeffrey Kodba said. "We have a lot of people who check our site every day to see what product we have coming in. The blogs allow them to get the inside scoop. There they can find out about new products and prices." The blogs and the rest of the site redesign are helping lift organic search traffic from Google and Yahoo. "Overall, we are getting more traffic, more phone calls and more sales," Kodba said. "I attribute a lot of that to the a more professional-looking website." Jeffrey and his team have also invested wisely when it comes to attracting buyers to www.jskcomputerservices.com. "One of the first things we used, of course, was WholesaleCentral.com," he said. "Essentially, we have utilized Google to draw in general traffic and sites like WholesaleCentral.com to bring in more targeted prospects."
Educated "Team JSK" Builds Brand via Hard Work
Appropriately, Kodba's old colleague and original partner, Nicholas Palmer, has stayed on with the company, serving as Store Manager and Warehouse Technician. The Kodba brothers, Palmer and company attorney/business consultant, Anthony "Buzz" Andrezeski have created an outstanding core for establishing a leading wholesale business. "I would describe our team as educated," Jeffrey Kodba said. "I have two degrees in personal computer support. My brother has a four-year degree. Our business attorney, Anthony, was a Pennsylvania state senator. Two of our associates who work in the warehouse have side businesses of their own. We are a smart, hard-working bunch." Of course, applying good old-fashioned elbow grease and street smarts to the formal educations is at the heart of JSK's success story. Kodba predicts that they will lift their sales during 2008 to between $1.5 and $2 million. Not too shabby for a company that was founded on one computer in a 24-year-old's bedroom just a few years ago. JSK Computer Services continues to grow through great products and a serious devotion to providing the best customer service found anywhere. "There is always an associate here to answer your call, whether it's me, Joseph or someone else from our great team," Kodba explained. "Even though a lot of our business comes online, we still believe in communicating one-on-one with customers. We have a personalized touch in our service that we are extremely proud of. And although we do sell untested products, if a customer has a problem with our items we will work out some kind of credit or help them sell their products. In the end, we will make sure that they are happy." For more information, contact:
JSK Computer Services, LLC
2001 Peninsula Dr.
Erie, PA 16506
Tel: 814-392-6907
Website:
www.jskcomputerservices.com
Entire contents ©2023, Sumner Communications, Inc. (203) 748-2050. All rights reserved. No part of this service may be reproduced in any form without the express written permission of Sumner Communications, Inc. except that an individual may download and/or forward articles via e-mail to a reasonable number of recipients for personal, non-commercial purposes.