INDEPENDENT RETAILER magazine is now the official news outlet for Wholesale Central visitors. Each monthly issue is packed with new product ideas, supplier profiles, retailing news, and business strategies to help you succeed.

See new articles daily online at IndependentRetailer.com.
LAPSTYLE offers more than a dozen different designer laptop computer covers in bold, wild, plush shag fabric. The covers work the way book covers do and slip over the laptop, allowing them to stay on while the computer is in use.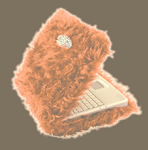 They close with Velcro and serve to protect laptops, while also distinguishing them in bold colors with such titles as "The Bear," "The Beast," "Fire-Starter," "Dare Devil," and "Deadly Pink." They were initially launched in Europe and are now available nationwide, with additional designs coming on stream regularly. Among the newest Lapstyle introductions are units made of leather and wood.
Lapstyle plush covers will fit virtually any laptop model and brand that ranges from 13 inches to 17 inches wide. There is no minimum order. The plush, fake fur units wholesale for $12 a unit. The suggested retail price is $24.99.
The wood and leather versions wholesale for about $17 a unit. Suggested retail price for these more masculine additions is $39.99.
For more information, contact:
Lapstyle
13915 Burbank Blvd.
Sherman Oaks, CA 91401
Tel.: 818-391-8261
Fax: 818-475-1392
Website: www.lapstyle.com
Entire contents ©2021, Sumner Communications, Inc. (203) 748-2050. All rights reserved. No part of this service may be reproduced in any form without the express written permission of Sumner Communications, Inc. except that an individual may download and/or forward articles via e-mail to a reasonable number of recipients for personal, non-commercial purposes.