INDEPENDENT RETAILER magazine is now the official news outlet for Wholesale Central visitors. Each monthly issue is packed with new product ideas, supplier profiles, retailing news, and business strategies to help you succeed.

See new articles daily online at IndependentRetailer.com.
NINA CUSAMELLI LLC has introduced the Heroes Cross collection of sterling silver necklaces and pins that depict heroes, which on most of the designs, emanate from a central circle to form a cross. The series includes eight different designs. Six designs are approximately 1.5 inches and available as both a necklace or pin.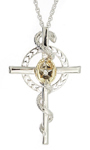 The Our Troops cross shows one person from each of the four U.S. military services. The four figures meet at the center, which depicts the planet, and the theme is to honor U.S. service people around the globe. The Heroes of 9-11 shows four airplanes facing into a central core that includes depictions of the Pentagon and twin towers. This is one of several designs in the Heroes Cross collection that includes a colored stone at the center. Another design honors and depicts police, firefighters, paramedics, and emergency service providers. The Our Astronauts cross depicts four replicas of the U.S. Challenger spacecraft, aiming into a central universe. Another Heroes Cross honors teachers, with icons related to numbers, reading, and other symbols of education. A cross honoring doctors, nurses and medical technicians contains references to the Hippocratic symbol. The police, firefighters cross wholesales for $25, and the medical personnel cross wholesales for $35. All of the others wholesale for $30. That includes two additional crosses which are designed as conventional cross shapes. One says Mom on the front and My Hero on the back. The other honors Dad in the same way. These are available as necklaces only. The minimum Heroes Cross order is 10 crosses, which can be an assortment of designs. The suggested retail is $60, while the police unit can retail for $55 and the medical one for $65. Two acrylic displayers are available. One comes with an assortment of 16 units, and is offered complete for $530. The other displayer holds and comes with 50 units and is available for $1,600. Retailers that place an order for 75 units get the displayer for free. That order can also contain an assortment of designs. The company donates 10 percent of all sales revenue to organizations associated with the heroes depicted on its crosses. For more information, contact:
Nina Cusamelli LLC
6030 Daybreak Circle
Ste. A150, Box 237
Clarkesville, MD 21029
Tel.: 410-531-7709
Fax: 410-531-7710
Website:
www.heroescross.com
Entire contents ©2023, Sumner Communications, Inc. (203) 748-2050. All rights reserved. No part of this service may be reproduced in any form without the express written permission of Sumner Communications, Inc. except that an individual may download and/or forward articles via e-mail to a reasonable number of recipients for personal, non-commercial purposes.