INDEPENDENT RETAILER magazine is now the official news outlet for Wholesale Central visitors. Each monthly issue is packed with new product ideas, supplier profiles, retailing news, and business strategies to help you succeed.

See new articles daily online at IndependentRetailer.com.
TRADE DIRECT IMPORTS is the sole U.S. distributor of the BH.Plus line of Bio-Health Jewelry. The line of bracelets, watches and necklaces utilize natural elements known to promote good health and combines them into jewelry that with fashion appeal.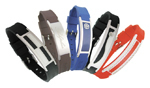 The three main ingredients are tourmaline, negative ions and germaniums, which are a type of magnet used in circuit boards that are natural painkillers. Researchers have established the impact of the amount and quality of ions on the body. The positive effect of negative ions is often experienced in mountainous and beach settings, or following a rainfall.These settings typically contain tens of thousands of negative ions, which increase the flow of oxygen to the brain, resulting in higher alertness, decreased drowsiness and more mental energy. Car exhausts, fumes, soot and dust either neutralize or destroy negative ions, and steel, concrete buildings and synthetic materials can also decrease negative ions in the air.Negative ions have been found to help purify blood, restore cells, help ward off infectious disease, relieve pain and improve strength. As a result, they relieve sleep disorders, allergies, anxiety, mood swings, digestive troubles and other ills. Bio-Health Jewelry not only provides an increase in negative ions, but also utilizes far-infrared rays to penetrate the body and introduce these negative ion molecules into body cells. Even in a perfect environment, the body generally absorbs just 15 to 20 percent of negative ions through the air. Due to the fact that Bio-Health Jewelry is next to the skin, it is a more effective means of delivering negative ions.There are more than 100 different fashion designs in the BH.Plus brand. All units are individually packaged in a gift box. The wholesale prices range from $15.50 to $30, and the cost of watches spans from $25 to $40. The suggested retail price for the jewelry is $44.95 to $60, and from $60 to $80 for watches.The minimum order is 100 pieces for wholesale pricing. However, opening orders may obtain a sample set of ten pieces. A circular display is offered for $200, and on orders of 1,000 units or more, the display is free.For more information, contact:
Trade Direct Imports
8313 Boca Glades Boulevard East
Boca Raton, FL 33434
Tel.: 561-674-3895
Fax: 561-488-7125
Website:
www.biohealthjewelry.com
Entire contents ©2022, Sumner Communications, Inc. (203) 748-2050. All rights reserved. No part of this service may be reproduced in any form without the express written permission of Sumner Communications, Inc. except that an individual may download and/or forward articles via e-mail to a reasonable number of recipients for personal, non-commercial purposes.