INDEPENDENT RETAILER magazine is now the official news outlet for Wholesale Central visitors. Each monthly issue is packed with new product ideas, supplier profiles, retailing news, and business strategies to help you succeed.

See new articles daily online at IndependentRetailer.com.
EMERSON KARAOKE introduces a hand held karaoke converter that will convert any MP3, MP4, ipod, Zune or DVD player into a karaoke system. Connect the converter to any one of those players and the television set, and the user can mix his or her voice with whatever is playing.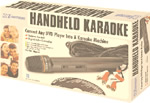 The microphone connects between the DVD player's audio out jacks and the TV's audio in jacks. For even better sound, the TV leads can be connected to a stereo's audio on ports. If using the karaoke media, the song lyrics will appear on the TV screen. Connection is easy and quick.
To get the party going and help singers drop their inhibitions, the unit comes with a DVD of great hits by such favorites as Sonny & Cher, Kool & the Gang and others. Batteries and a warranty card are also included.
There is no minimum order requirement. The wholesale cost is $15.50 a unit, and the suggested retail price is $29.99. Additional DVDs are available online at www.foreverhits.com.
For more information, contact:
Emerson Karaoke
6365 53rd Street North Ste. B
Pinellas Park, FL 33781
Toll free: 800-568-2000
Tel.: 727-209-0782
Fax: 727-209-1312
Website: www.emersonkaraoke.com
Entire contents ©2021, Sumner Communications, Inc. (203) 748-2050. All rights reserved. No part of this service may be reproduced in any form without the express written permission of Sumner Communications, Inc. except that an individual may download and/or forward articles via e-mail to a reasonable number of recipients for personal, non-commercial purposes.