INDEPENDENT RETAILER magazine is now the official news outlet for Wholesale Central visitors. Each monthly issue is packed with new product ideas, supplier profiles, retailing news, and business strategies to help you succeed.

See new articles daily online at IndependentRetailer.com.
RED BICYCLE BRANDS introduces The Keygaroo Key Ring, a key ring combined with a small pouch to hold essentials, such as lipstick, contact lenses, credit cards and earphones. While ensuring keys are easy to find, Keygaroo also makes it easy to keep the most important items together, safe, secure and always at the ready.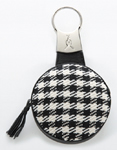 The key ring has a trademarked pull and twist design that makes adding and removing keys easy. The pouches are about four inches long and three inches across, and currently come in seven styles made either of leather or calf hair. The calf hair designs are in a choice of leopard or zebra prints, and the leather pouches are offered in a choice of different colors.
The minimum order is 18 pieces. Retailers ordering 36 pieces get a free countertop displayer. The wholesale price ranges from $10 to $14.50, depending on the design, and the suggested retail prices are $20 to $28.
For more information:
Red Bicycle Brands
50 Mellen Street
Hopedale, MA 01747
Toll Free: 888-539-4276
Website: www.keygaroo.com
Entire contents ©2022, Sumner Communications, Inc. (203) 748-2050. All rights reserved. No part of this service may be reproduced in any form without the express written permission of Sumner Communications, Inc. except that an individual may download and/or forward articles via e-mail to a reasonable number of recipients for personal, non-commercial purposes.