INDEPENDENT RETAILER magazine is now the official news outlet for Wholesale Central visitors. Each monthly issue is packed with new product ideas, supplier profiles, retailing news, and business strategies to help you succeed.

See new articles daily online at IndependentRetailer.com.
MORE SALES introduces three Koozies, which are covers for beverage bottles and cans. There is the "Bottle Suit," "Can Cooler," and "Pocket Coolie," which is a can cooler that folds flat to fit in a pocket or purse when not in use.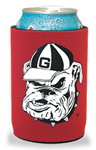 All are made of soft stretch nylon and neoprene, just like a wet suit, and have a non skid bottom. They are washable. All are offered in a range of more than 150 different designs, which are screen printed in-house by More Sales. Among them are licensed logos of major professional and university sports teams and popular beer brands.
There are also many dozens of stock prints. They include flag designs, patterns for each of the armed forces, sports, popular tourist destinations, bikers and the tropics. Some carry humorous sayings, such as, "Shut Up and Fish," and on a pirate themed design, "Surrender the Booty." The company also provides custom printing.
The Bottle Suit has a heavy duty zipper and pull ring. In addition to keeping bottled beverages cool and easy to hold onto, this unit also makes bottled beverages safe around pools, patios and boats. The minimum order for Koozies is one dozen per print. Bottle Suit with a stock print typically wholesales for $3, and $2.50 on larger orders. The suggested retail price is $5.99. Bottle Suit with a licensed design wholesales for $3.50, and decreases to $3 on large orders.
Can Cooler's wholesale price starts at $1.50, and the suggested retail price is $2.99. The wholesale price for Pocket Coolie ranges from 75 cents to $1, depending on the size of the order, and the suggested retail price is $1.99. A floor rack on casters that holds 144 of each of the three types of Koozies is available for $75, and the cost is offset by $75 in Koozies at wholesale cost.
For more information, contact:
More Sales
11319 43rd Street North
Clearwater, FL 33762
Toll Free: 800-226-3903
Tel.: 727-573-7761
Fax: 727-556-2525
Website: www.moresales.com
Entire contents ©2023, Sumner Communications, Inc. (203) 748-2050. All rights reserved. No part of this service may be reproduced in any form without the express written permission of Sumner Communications, Inc. except that an individual may download and/or forward articles via e-mail to a reasonable number of recipients for personal, non-commercial purposes.