INDEPENDENT RETAILER magazine is now the official news outlet for Wholesale Central visitors. Each monthly issue is packed with new product ideas, supplier profiles, retailing news, and business strategies to help you succeed.

See new articles daily online at IndependentRetailer.com.
MEDIA CORP. LLC has developed Krazy Cutter, a hand held cutting device that slices smooth without ever cutting the user's hand. It is less than two inches long and an inch tall, and fits snugly between the thumb and forefinger.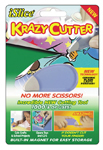 At its tip is a tiny ceramic blade that never rusts, dulls or wears out. Lay Krazy Cutter flush on the item to be cut, apply gentle pressure, pull, and the cut line will be precise. It's ideal for removing the cellophane wrappers on CDs and DVDs, for opening snack bags and cutting tape from packages. It can also be used to snip articles, coupons and recipes from the newspaper, and it takes all the struggle out of opening blister packed products. The unit has a magnet, so one can be attached to the fridge and other metal surfaces, such as file drawers, to keep it always at the ready. The minimum order is a case containing 48 units. The wholesale price is $2.50, and it comes with a free displayer. There are aggressive discounts on high volume orders. The suggested retail is $4.99. For more information, contact:
Media Corp. LLC
6711 West 121st Street
Overland Park, KS 66209
Tel.: 913-312-0224
Fax: 913-317-8902
Entire contents ©2022, Sumner Communications, Inc. (203) 748-2050. All rights reserved. No part of this service may be reproduced in any form without the express written permission of Sumner Communications, Inc. except that an individual may download and/or forward articles via e-mail to a reasonable number of recipients for personal, non-commercial purposes.