INDEPENDENT RETAILER magazine is now the official news outlet for Wholesale Central visitors. Each monthly issue is packed with new product ideas, supplier profiles, retailing news, and business strategies to help you succeed.

See new articles daily online at IndependentRetailer.com.
GREY EAGLE TRADER carries an exhaustive line of LED flashlights, in sizes ranging from a single bulb to as many as 95 bulbs. LED flashlights are gaining popularity rapidly because they are very energy efficient and have an exceptionally long life.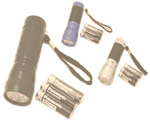 Among the single bulb models are five different key chain versions, one of which includes a whistle. Some come in a choice of colors. The wholesale price ranges from $1.45 to $1.90 per unit, depending on style.
Finger Lights are among the most popular. They do clip on fingers, and another is designed to clip onto the bill of a hat. These are offered singly, in two packs and four packs. The wholesale price is 99 cents for a set of four, and retailers typically sell them for $1 each.
Another best seller is a two in one, eight bulb laser light. It is about four inches long and one inch in diameter. It comes with a brand name battery and a nylon case, and is offered in a choice of colors. It wholesales for $3.75 a unit.
One single bulb has a flexible head, so it can be used to light up hard to reach spaces. It has a built in laser that can be used as a pointer. There are also LED flashlights on a band, which can be worn around the head, LED lights that attach to a bicycle, emergency LED flashers with a magnet that attaches to a vehicle, and a 20 bulb and a nine bulb LED desk lamp.
At the brighter end of the spectrum are a three cell flashlight with 32 bulbs and a three cell single flashlight with 95 bulbs, to deliver an extremely bright light. Both of these units are about 13 inches long. The wholesale price is $21.90, and suggested retail is up to $69.
Grey Eagle also carries a complete line of knives and swords.
For more information, contact:
Grey Eagle Trader
319 Garlington Road Suite 3A
Greenville, SC 29615
Tel.: 864-281-9914
Fax: 864-281-9915
Website: www.greyeagletrader.com
Entire contents ©2021, Sumner Communications, Inc. (203) 748-2050. All rights reserved. No part of this service may be reproduced in any form without the express written permission of Sumner Communications, Inc. except that an individual may download and/or forward articles via e-mail to a reasonable number of recipients for personal, non-commercial purposes.