INDEPENDENT RETAILER magazine is now the official news outlet for Wholesale Central visitors. Each monthly issue is packed with new product ideas, supplier profiles, retailing news, and business strategies to help you succeed.

See new articles daily online at IndependentRetailer.com.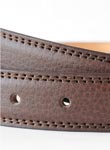 Men have been wearing belts going as far back as 3,000 B.C., and both genders have worn these accessories on and off throughout the years, depending on current fashion trends. Today, belts are a staple for men and popular among women. "I don't know a man who doesn't wear a belt everyday," shares Howard Keller, partner of Detroit Leather Company, which launched in May of 2012. "Our focus is high quality, affordable leather belts, made in the U.S. People are tired of buying belts that are made overseas of plastic and leather. They don't last." Detroit Leather Company offers men's everyday, men's dress and ladies' belt lines.
The company's main product, the men's everyday belt, is a solid hide and there is no bonding or sewing. Available in black, brown, white, tan and burgundy, it is 1/4 inch thick and is made in four widths, from 1-1/4 inch to 2 inches. The 1-1/2 inch everyday man's belt, for example, wholesales for $16 and retails for $30 to $35. The 2-inch-wide belt wholesales for $20 and retails for $40 to $45. "We offer these with a cosmetic stitch as well," Keller adds, "for an extra $2.50 per belt."
"Ladies deserve to have a nice belt, too," Keller points out, "but a lot of belt manufacturers in the US don't carry ladies' lines." Detroit Leather Company's ladies belts, available in glossy white, black patent leather and several colors, come in a variety of widths and have a feminine belt buckle. With a floral pattern, the belt is thinner than the gentleman's belt to accommodate women's fashion desires. Belts wholesale for $12.50 to $15 and retail for $25 to $35. Base buckles are included and retailers can purchase upgraded buckles at cost. Detroit Leather Company sells about 60 styles of belts and 100 buckle designs. "One of the nice things about our belts is that we use Chicago screws, while a lot of other companies use riveting or snaps," Keller continues. "Riveting does not allow wearers to change their buckles and snaps wear out. With the Chicago screws, people can easily switch belt buckles at will."
Retailers can check wholesale pricing and place orders on the company's website. There is a new product page, and buyers can access and grab merchandise pictures to use on their own websites. In addition, retailers can visit the company's showroom in Farmington Hills, MI, where they also can place orders.
Detroit Leather Company will be exhibiting at the ASD show, being held March 17-20 at the Sands Expo Center in Las Vegas, NV. Retailers will find the company's newest looks, basket weave and floral patterns, in its everyday men's belt, along with its ladies and Western belt lines at the event. Detroit Leather Company is offering an ASD show package of ten free belts with the purchase of 75 belts for opening orders. Additional discounted packages will be available.

For more information:
Detroit Leather Company
24047 Research Drive
Farmington Hills, MI 48335
Tel.: 248-497-8421
Tel & Fax: 248-987-6101
Email: detroitleatherco@yahoo.com

Entire contents ©2023, Sumner Communications, Inc. (203) 748-2050. All rights reserved. No part of this service may be reproduced in any form without the express written permission of Sumner Communications, Inc. except that an individual may download and/or forward articles via e-mail to a reasonable number of recipients for personal, non-commercial purposes.