INDEPENDENT RETAILER magazine is now the official news outlet for Wholesale Central visitors. Each monthly issue is packed with new product ideas, supplier profiles, retailing news, and business strategies to help you succeed.

See new articles daily online at IndependentRetailer.com.
UMBRELLA COMPANY introduces a series of Rain-Glo Light Up umbrellas for adults and children. They are made of water resistant nylon and are stick type umbrellas.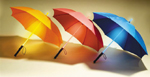 There is an on/off button that lights up LED bulbs in the handle, and sends a glow up the full length of the shaft. The glow provides the user with illuminated surroundings, and signals oncoming cars and pedestrians. The umbrellas are powered by three AAA batteries, which are included and are replaceable.
The Children's Rain-Glo Light Up Umbrellas are offered in a choice of red, blue or orange. The adult version, which is identical but larger, is offered in a choice of red, orange, blue or black.
The company requires a minimum order of $100. An easel containing a photo of the item lighted is free with the first order. Umbrella Company maintains that sales increase dramatically for retailers who demonstrate a lighted unit.
The wholesale price for the children's version is $8.50, and suggested retail is $19.99. The adult version wholesales for $12.50 and carries a suggested retail price of $24.99.
For more information, contact:
Umbrella Company
430 Sandshore Road, Unit 9
Hackettstown, NJ 07840
Toll Free: 800-345-2309
Tel.: 908-979-9494
Fax: 908-979-1616
Website: www.umbrellasetc.com
Entire contents ©2021, Sumner Communications, Inc. (203) 748-2050. All rights reserved. No part of this service may be reproduced in any form without the express written permission of Sumner Communications, Inc. except that an individual may download and/or forward articles via e-mail to a reasonable number of recipients for personal, non-commercial purposes.