INDEPENDENT RETAILER magazine is now the official news outlet for Wholesale Central visitors. Each monthly issue is packed with new product ideas, supplier profiles, retailing news, and business strategies to help you succeed.

See new articles daily online at IndependentRetailer.com.
CPA SYSTEMS INC. introduces PupLight, a collar and LED light designed to make dogs visible to traffic at night. The company also offers NekLight, which adapts the same light for a person.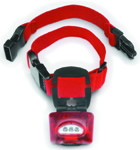 PupLight consists of a collar and clip-on light with three LED bulbs, which cast a bright light 10 to 20 feet in front of the dog and illuminates an area up to 200 feet ahead and 70 feet on each side. It is water resistant and can be angled up or down for comfort and forward illumination. PupLight also has a fur guard, so the dog's fur won't interfere with the beam.
It weighs just two and a half ounces and fits all dogs from five pounds and up. The light can be attached to most dog collars. While it makes a dog visible to traffic, it also helps older dogs see better, giving them confidence when walking at night.
The NekLight utilizes the same light as PupLight, but comes with a variety of straps so a person can wear it around the neck, head or chest. It can also be clipped to clothing, and is ideal for nighttime walks or jogging.
The company requires a minimum order of 12 units, and it can contain a combination of PupLights and NekLights. In that quantity, the wholesale price is $10.75 a unit. The order comes with a display that holds 14 units, including one with an on/off switch to illustrate how the unit works. The suggested retail price is $19.99 a unit.
For more information, contact:
CPA Systems Inc.
One South 669 Birchbrook Court
Glen Ellyn, IL 60137
Toll Free: 866-787-5444
Tel.: 630-858-3057
Fax: 630-858-6457
Website: www.puplight.com
Entire contents ©2022, Sumner Communications, Inc. (203) 748-2050. All rights reserved. No part of this service may be reproduced in any form without the express written permission of Sumner Communications, Inc. except that an individual may download and/or forward articles via e-mail to a reasonable number of recipients for personal, non-commercial purposes.