INDEPENDENT RETAILER magazine is now the official news outlet for Wholesale Central visitors. Each monthly issue is packed with new product ideas, supplier profiles, retailing news, and business strategies to help you succeed.

See new articles daily online at IndependentRetailer.com.
FLUKER FARMS, which has been raising feeder insects for reptiles and fishermen since the 1950s, introduces, "Hoppy Meals." They are boxes of live crickets for feeding to reptiles and lizards.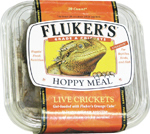 Hoppy Meals come in four different units, each containing different sizes of crickets: 1/4, 1/2, 3/4 and one inch, in order to provide the right size meal for the sizes and appetites of various creatures.
The minimum order is a case of 24 Hoppy Meals units. Each individual clear plastic unit contains approximately 30 crickets, and all units contain the same size crickets. The case comes in its own countertop merchandiser, which has an eye catching header. The units themselves resemble a takeout hamburger carton
Orders are shipped overnight Fed Ex, and the crickets live approximately two weeks. Each container is ventilated, has a crawl space, and includes a food and water source. It also has a layer of cardboard that absorbs waste and keeps the container looking fresh.
Regardless of the size of the crickets inside, the wholesale price of a case of 24, including shipping, totals about $32, or $1.30. The suggested retail price is $3.99.
For more information, contact:
Fluker Farms
1333 Plantation Road
Port Allen, LA 70767
Toll Free: 800-735-8537
Tel.: 225-343-7035
Fax: 225-336-0671
Website: www.flukerfarms.com
Entire contents ©2022, Sumner Communications, Inc. (203) 748-2050. All rights reserved. No part of this service may be reproduced in any form without the express written permission of Sumner Communications, Inc. except that an individual may download and/or forward articles via e-mail to a reasonable number of recipients for personal, non-commercial purposes.