INDEPENDENT RETAILER magazine is now the official news outlet for Wholesale Central visitors. Each monthly issue is packed with new product ideas, supplier profiles, retailing news, and business strategies to help you succeed.

See new articles daily online at IndependentRetailer.com.
DAY DREAM GAMES has developed Lotto Dice, a new way to determine numbers to play on virtually any lottery. Just shake, rattle and roll Lotto Dice, and they will reveal the numbers to play. While there's no guarantee they will increase your chance of winning, they do make selecting the numbers to play more fun.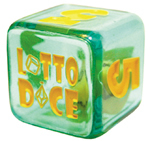 Lotto Dice consist of an inner die containing numbers zero to nine. This die rolls around freely inside a larger, outer, hollow die with numbers zero to five, and the zero is represented by the Lotto Dice logo. The number on the outer die represents 10, 20, 30, 40, 50, or if the logo appears, a zero. Then add number on the inner die to the result from the outer die. For example, if there's a three on the outer die and a four in the inner die, the result is 30, plus 4 equals 34.
Keep on rolling until the dice have revealed as many numbers as are required to fill in the lottery ticket. For daily type lotteries that use only numbers zero through nine, use just the inner die to select the single digit numbers.
Lotto Dice are packaged in a blister pack that can be hung on a pegboard. A retailer can order a sample pack that contains 24 units. In this order, the wholesale cost is $2.05. A master case of 144 units is available for $266.44, which represents $1.85 a unit. The suggested retail price is $4.99, but some retailers are selling Lotto Dice from $3.50 to $5.50.
For more information, contact:
Day Dream Games
3410 Lazy Day Lane
Charlotte, NC 28269
Tel.: 704-599-4263
Fax: 704-921-2735
Website: www.daydreamgames.com
Entire contents ©2022, Sumner Communications, Inc. (203) 748-2050. All rights reserved. No part of this service may be reproduced in any form without the express written permission of Sumner Communications, Inc. except that an individual may download and/or forward articles via e-mail to a reasonable number of recipients for personal, non-commercial purposes.