INDEPENDENT RETAILER magazine is now the official news outlet for Wholesale Central visitors. Each monthly issue is packed with new product ideas, supplier profiles, retailing news, and business strategies to help you succeed.

See new articles daily online at IndependentRetailer.com.
Lucky PeMPs offers its own brand of personal electronic media players for digital music and video. The selection includes classic designs in a choice of colors and features along with stylish round designs.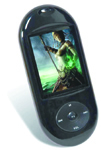 The company's round MP3/MP4 player, for example, has a 1.8 inch screen and comes in black or white. It's available with 1Gb or 2 Gb capacity. The 1Gb unit wholesales for $34.14 a unit, while the higher capacity model wholesales for $42.64 a unit. Quantity discounts are available on high volume orders.
The classic MP3/MP4 player comes in a choice of pink, black, blue, silver and green and in 1Gb and 2Gb capacity at wholesale pricing of $29.96 and $39.08 a unit. The unit has a 1.5 inch screen and features music, movies, voice recording and playback, a photo album and an FM radio.
The Clip MP3 player, which can be clipped on a pocket or waistband, has 512Mb capacity. It is available in a choice of pink, black, blue, green and silver. On orders of 10 to 39 units, the wholesale cost is $19.69; on orders of 40 to 79, wholesale is $18.26, and on orders of 80 or more, the unit wholesale cost is $17.54.
The minimum order is $300, and can contain an assortment, including Lucky PeMPs's line of accessories. They include wall chargers, earphones, USB cables, silicone skins and screen covers. The wholesale cost of accessories is typically 75 cents each. Special designs are also available. Retail pricing is up to the retailer.
For more information, contact:
Lucky PeMPs
10931 Pearl Way
Denver, CO 80233
Tel.: 303-495-5000
Websites: www.luckypemps.com and www.luckymp4.com
Entire contents ©2021, Sumner Communications, Inc. (203) 748-2050. All rights reserved. No part of this service may be reproduced in any form without the express written permission of Sumner Communications, Inc. except that an individual may download and/or forward articles via e-mail to a reasonable number of recipients for personal, non-commercial purposes.