INDEPENDENT RETAILER magazine is now the official news outlet for Wholesale Central visitors. Each monthly issue is packed with new product ideas, supplier profiles, retailing news, and business strategies to help you succeed.

See new articles daily online at IndependentRetailer.com.
GALAXY DISTRIBUTING offers two different versions of sunglasses with built in MP3 players. All the sunglass lenses are polarized, and the sunglasses are in a sleek, modern, unisex design, offered in black or dark blue.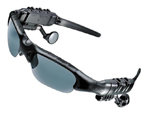 One version has an MP3 player and the other adds Blue Tooth, to accommodate a cell phone. When the phone rings, the MP3 player shuts off automatically and the hands free phone conversation takes precedent.
Both units have a one gigabyte memory and come with a rechargeable battery and a USB cable, so music can be downloaded from a computer. The battery length is approximately five hours, and it can be recharged while music is being downloaded. Units can contain between 275 and 300 songs, depending on the lengths of the individual selections. All are shock proof and anti static. The company offers a 90 day exchange policy with each unit.
The minimum order is 10 units of the same version. The regular MP3 player sunglasses' wholesale cost is $21. Suggested retail is $45.95. The wholesale cost of the MP3 player with Blue Tooth on an order of 10 units is $42, and suggested retail ranges from about $85 to $95.
For more information, contact:
Galaxy Distributing
18870 Serenoa Court
Alva, FL 33920
Tel.: 239-694-6479
Fax: 239-693-0701
Website: www.mp4playerswholesale.com
Entire contents ©2023, Sumner Communications, Inc. (203) 748-2050. All rights reserved. No part of this service may be reproduced in any form without the express written permission of Sumner Communications, Inc. except that an individual may download and/or forward articles via e-mail to a reasonable number of recipients for personal, non-commercial purposes.