INDEPENDENT RETAILER magazine is now the official news outlet for Wholesale Central visitors. Each monthly issue is packed with new product ideas, supplier profiles, retailing news, and business strategies to help you succeed.

See new articles daily online at IndependentRetailer.com.
MESA POTTERY has added crosses (a new category) to its line, in addition to several new items. There are cross designs containing a choice of motifs, including a dove, heart, ball, sun and classic cross themes of German, Gaelic and Welsh design.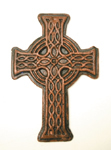 The wholesale prices range from 70 cents to $5 for larger versions. The smaller designs are also available in an assortment containing 25 designs, for a total wholesale cost of $12.50, which is a savings of $5 versus buying each singly.The company has also added a full size cowboy boot. It was initially designed as a planter, but can also be used as a door stop, umbrella stand or by itself as a decorative object.The company website has been redesigned to make ordering easy. All items are depicted along with their weight, dimension and wholesale cost. In addition, buyers can call for shipping costs on their order before they pay.The company was founded 35 years ago and is a family owned business that utilizes a proprietary process that has been patented. It offers a wide range of planters, pottery, candle holders, statuary and wall plaques in unique designs, many of which are based on American Indian, Southwest, animal and wildlife themes.Among the best sellers are a buffalo that wholesales for $11.50 and has a suggested retail price of $29.95. The grizzly bear, equally popular, wholesales for $9.50 and has a suggested retail of $24.95.The minimum wholesale order is $250, and can contain an assortment of designs and products. Under certain circumstances, with a volume to be determined, the company will create a mold for making a custom design.For more information, contact:
Mesa Pottery
P.O. Box 6955
Albuquerque, NM 87197
Tel.: 505-244-0212
Fax: 505-255-3689
Website:
www.mesapottery.com
Entire contents ©2022, Sumner Communications, Inc. (203) 748-2050. All rights reserved. No part of this service may be reproduced in any form without the express written permission of Sumner Communications, Inc. except that an individual may download and/or forward articles via e-mail to a reasonable number of recipients for personal, non-commercial purposes.