INDEPENDENT RETAILER magazine is now the official news outlet for Wholesale Central visitors. Each monthly issue is packed with new product ideas, supplier profiles, retailing news, and business strategies to help you succeed.

See new articles daily online at IndependentRetailer.com.
BAD HABITS market tests dozens of humorous sayings every quarter and chooses the top 10 to add to its extensive line of stickers and mini stickers. Ten new sayings are added to the collection every quarter to keep displays fresh and consumers coming back for more.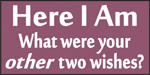 The regular size stickers, which are three by 10 inches, come in both static cling and adhesive backed units. The mini stickers are adhesive backed and range in size from two by four inches and 1.5 by five inches.
Among the newest sayings on the stickers are: "It's not premarital sex if you don't intend to get married," "Dogs aren't our whole life, but they make our lives whole," "Stop Global Whining," and, "Here I am: What are your other two wishes." All of the stickers have humorous graphics and are in color.
Many of the company's magnets contain the same sayings as the stickers. Its' T-shirts' sayings are typically limited to ones having to do with age or golf. The minimum order is $50 and it can contain an assortment of products. The wholesale price for mini stickers is 60 cents a unit and suggested retail price is $1.20 or more. The adhesive back regular stickers wholesale for 80 cents each, and suggested retail is $1.69 or two stickers for $3. The full size static cling units wholesale for 85 cents a unit and have a suggested retail price of $1.79. Magnets wholesale for 85 cents a unit with a suggested retail price of $1.79.
For more information, contact:
Bad Habits
26106 Getty Drive
Laguna Niguel, CA 92677
Toll Free: 800-248-0987
Tel.: 949-582-2155
Fax: 949-582-8337
Website: www.bad-habits.com
Entire contents ©2021, Sumner Communications, Inc. (203) 748-2050. All rights reserved. No part of this service may be reproduced in any form without the express written permission of Sumner Communications, Inc. except that an individual may download and/or forward articles via e-mail to a reasonable number of recipients for personal, non-commercial purposes.