INDEPENDENT RETAILER magazine is now the official news outlet for Wholesale Central visitors. Each monthly issue is packed with new product ideas, supplier profiles, retailing news, and business strategies to help you succeed.

See new articles daily online at IndependentRetailer.com.
HOBBYTRON.COM introduces a line of Ed Hardy remote control helicopters, UFOs and boats. The distributor of hobby grade RC toys teamed with Christian Audigier, designer of Ed Hardy fashions, to create this line, which carries the designer's signature Ed Hardy logos, skulls and other images.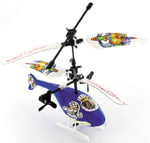 At the top of the line is the Ed Hardy Special Edition Intelli Heli three channel mini helicopter model. It has four counter rotating blades that enable it to fly up and down and hover, turn left and right and speed up, slow down and land softly in the palm of a hand.
The Inteli Heli wholesales for $26.50, and the suggested retail price is $69.95. It comes in a choice of three colors and operates on three frequencies, so the user can fly three helicopters at a time, even at night. The integrated battery allows flight times of up to 15 minutes on just a 20 minute charge.
The Ed Hardy Special Edition Mini RC UFO is very light weight and smaller than a human hand. It has four propellers with dual counter rotating blades that provide extra stability and lift. This model wholesales for $14.50, and the suggested retail price is $29.95.
There is also an Ed Hardy Special Edition SkyHawk RC helicopter that has a suggested retail price of $69.95. The Ed Hardy Special Edition Viper Boat is a 28 inch racing boat, powered by two spinning propellers and two motors that speed the boat up to 20 miles per hour. It has a suggested retail price of $99.95.
For more information, contact:
HobbyTron.com
525 Park Avenue Ste. B
San Fernando, CA 91340-2557
Tel.: 818-675-9000
Fax: 818-302-1911
Website: www.hobbytron.com
Entire contents ©2021, Sumner Communications, Inc. (203) 748-2050. All rights reserved. No part of this service may be reproduced in any form without the express written permission of Sumner Communications, Inc. except that an individual may download and/or forward articles via e-mail to a reasonable number of recipients for personal, non-commercial purposes.