INDEPENDENT RETAILER magazine is now the official news outlet for Wholesale Central visitors. Each monthly issue is packed with new product ideas, supplier profiles, retailing news, and business strategies to help you succeed.

See new articles daily online at IndependentRetailer.com.
MONSTER SPRAY LLC introduces Monster Spray, a product the company's founders invented to allay the fears of their five year old daughter. The four ounce bottle contains a placebo: aim, spray and the monsters all go away.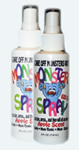 The content is a blend of 99 percent water and one percent fragrance. The latter is offered in a choice of strawberry or apple. The container is a pump spray similar to a hair spray bottle. The minimum order is 48 units. The wholesale price is $1.65, and the suggested retail is $2.99. A countertop displayer comes free with an order of 48 units. The point of sale displayer holds 12 bottles of Monster Spray, four bottles wide and three deep. It was based on specifications provided to the company by Walgreen's. For more information, contact:
Monster Spray LLC
4009 Spring Mountain Road
Las Vegas, NV 89102
Toll Free: 800-417-7729
Tel.: 714-225-8466
Fax: 702-233-1250
Website:
www.mymonsterspray.com
Entire contents ©2023, Sumner Communications, Inc. (203) 748-2050. All rights reserved. No part of this service may be reproduced in any form without the express written permission of Sumner Communications, Inc. except that an individual may download and/or forward articles via e-mail to a reasonable number of recipients for personal, non-commercial purposes.