INDEPENDENT RETAILER magazine is now the official news outlet for Wholesale Central visitors. Each monthly issue is packed with new product ideas, supplier profiles, retailing news, and business strategies to help you succeed.

See new articles daily online at IndependentRetailer.com.
RC JEWELS has introduced a new line of micro pave jewelry in which each CZ stone is set into brass with a rhodium finish. The company previously offered these in sterling silver, which required wholesale prices of as much as two and a half times more than the newer versions.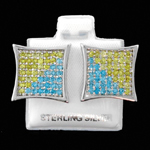 As a result of the switch to brass with a rhodium finish, the company's micro pave pendants and bracelets are more affordable and represent good value and quality to both retailers and consumers. Each CZ is set into the piece. There are 30 styles of pendants, and each contains approximately 300 stones per piece. The wholesale prices for pendants begin at $15 and reach to about $25, depending on the design. The suggested retail prices range from $39 to $69.
There are currently 10 different styles of micro pave bracelets, and each contains from 600 to 900 stones per piece. The wholesale cost is $50, and the suggested retail ranges from $100 to $125. The bracelets and pendants have the look and feel of the original real jewelry.
RC Jewels also offers approximately 60 different styles of earrings, which are made of sterling silver with rhodium. These have as few as 10 and as many as 64 stones per earring. The largest sizes are generally considered to be of hip hop styling, while the smaller ones have wider appeal to a broader audience. Wholesale prices for earrings begin at $6 per pair. The suggested retail price for smaller units ranges from $15 to $25 a pair, while the larger earrings typically retail for $30 to $35.
The minimum order is $200, and can include an assortment of all products. All are open stock, and RC Jewels offers a quantity discount on volume orders.
For more information, contact:
RC Jewels
8775 Centre Park Drive #322
Columbia, MD 21045
Toll Free: 866-332-4423
Tel.: 410-493-2269
Fax: 410-740-8292
Website: www.hiphopjewelrywholesale.com
Entire contents ©2022, Sumner Communications, Inc. (203) 748-2050. All rights reserved. No part of this service may be reproduced in any form without the express written permission of Sumner Communications, Inc. except that an individual may download and/or forward articles via e-mail to a reasonable number of recipients for personal, non-commercial purposes.