INDEPENDENT RETAILER magazine is now the official news outlet for Wholesale Central visitors. Each monthly issue is packed with new product ideas, supplier profiles, retailing news, and business strategies to help you succeed.

See new articles daily online at IndependentRetailer.com.
G-7 ENTERPRISES LLC introduces a line of licensed National Football League air fresheners, called Pro Fresheners. The line includes logos of the 32 NFL teams in team colors.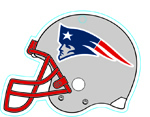 There are two versions of designs. One is a helmet shape that replicates the look of each team's helmet. The other is an oval shape, designed to contain any team logo in either a horizontal or vertical configuration. Together, this gives retailers 64 different choices.
The cardboard units are about 3.5 inches, designed to hang on a rearview mirror or wherever anyone wants to freshen the air and tout their team. The units come in a choice of two fragrances, pine forest and cotton meadow. The scent has been obtained from the company that supplies a leading line of home candles, and it typically lasts between ten days and two weeks.
The minimum order is 40 units of single Pro Fresheners in the same shape and team logo. In that quantity, the wholesale price is $1.40, and the suggested retail price is $2.99. This order is also offered in four clip strips, each containing ten units.
Retailers choose units carrying logos of their local teams. In New York, for example, that includes both the Giants and Jets. The company is in the process of configuring assorted units, targeted to truck stops, convenience stores and tourist destinations.
For more information, contact:
G-7 Enterprises LLC
3840 York Street, Ste. 215
Denver, CO 80205
Toll Free: 888-246-0599
Tel.: 303-296-2928
Fax: 303-296-2209
Website: www.profreshener.com
Entire contents ©2023, Sumner Communications, Inc. (203) 748-2050. All rights reserved. No part of this service may be reproduced in any form without the express written permission of Sumner Communications, Inc. except that an individual may download and/or forward articles via e-mail to a reasonable number of recipients for personal, non-commercial purposes.