INDEPENDENT RETAILER magazine is now the official news outlet for Wholesale Central visitors. Each monthly issue is packed with new product ideas, supplier profiles, retailing news, and business strategies to help you succeed.

See new articles daily online at IndependentRetailer.com.
GLOBAL NATURAL DIRECTIONS (GND) INC., a specialist in nutritional supplements, has developed Ultra MSM, a compound containing methyl sulfonyl methane. It is a natural organic sulfer found in every living organism and is as vital to life as oxygen and water.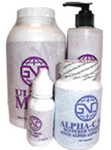 It is the third most abundant mineral in the human body and is found in meats, fish, dairy and vegetables. However, because foods are processed and then fried, baked, boiled or micro-waved, most of the inherent MSM is removed, leaving most people deficient in this vital mineral.
As a result, millions of people suffer from chronic pain as well as diabetes, high blood pressure and other debilitating conditions. Ultra MSM is made to replenish the body's MSM in order to stop chronic pain and enhance overall health. For more information on the benefits of Ultra MSM, contact GND at 800-619-8255 or visit www.gndbsw.com to read testimonials from people who have been relieved of pain through the use of Ultra MSM.
For more information on wholesale and retail pricing and ordering Ultra MSM, contact:
Heavenly Body Products International
2571 Park Central Boulevard
Decatur, GA 30035
Tel.: 404-286-6700
Website: www.heavenlybodyproducts.com
Entire contents ©2023, Sumner Communications, Inc. (203) 748-2050. All rights reserved. No part of this service may be reproduced in any form without the express written permission of Sumner Communications, Inc. except that an individual may download and/or forward articles via e-mail to a reasonable number of recipients for personal, non-commercial purposes.