INDEPENDENT RETAILER magazine is now the official news outlet for Wholesale Central visitors. Each monthly issue is packed with new product ideas, supplier profiles, retailing news, and business strategies to help you succeed.

See new articles daily online at IndependentRetailer.com.
SKEYE WHOLESALE has introduced Dandelion Valley, a new line of incense designed specifically to provide retailers with quality product that has broad appeal and affords maximum profitability. Dandelion Valley features 48 new scents in 11 inch incense sticks.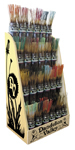 Among the new scents are: After Party, Cherry, Dragon's Blood, Havana Blue, Nag Champa, Stella Blue, Coco Mango, One Love, Pear Vanilla, Raspberry Rose, Strawberry Passion and Berry Bomb. Each stick burns for approximately an hour and wafts its fragrance without an overwhelming amount of smoke.
The scents are sold in bundles of 100 for just $5 each wholesale. This gives retailers the option of selling ten sticks for just $1.
A solid wood display is available that holds 100 bundles of 24 scents, which represents 2,400 sticks, plus 100 incense retail bags for a total of just $149.99. The displayer is 16 inches wide, 11.25 inches deep and 28.25 inches tall, giving it high visibility while also taking up just a fraction of the space used for typical incense counter displayers.
A second kit, containing the same quantities of the other 24 scents, is also available at the same pricing. The displays prominently feature this new Dandelion Valley brand.
For more information, contact:
Skeye Wholesale
P.O. Box 263
Maumee, OH 43537
Toll Free: 866-585-3693
Tel.: 419-720-4440
Fax: 419-720-4441
Website: www.skeyewholesale.com
Entire contents ©2023, Sumner Communications, Inc. (203) 748-2050. All rights reserved. No part of this service may be reproduced in any form without the express written permission of Sumner Communications, Inc. except that an individual may download and/or forward articles via e-mail to a reasonable number of recipients for personal, non-commercial purposes.